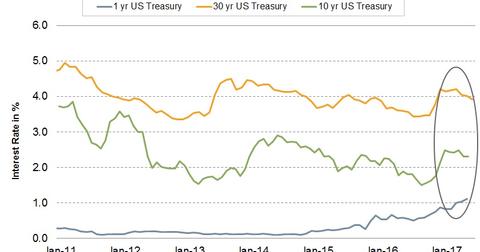 Why Did Bond Yields Drop after Yellen's Latest Testimony?
By Ricky Cove

Updated
A bond yield roller-coaster ride
Bond yields were all over the place during US Federal Reserve Chair Janet Yellen's testimony to the Congress. Her comments about the US economy showed that she remained cautiously optimistic, both about US inflation (TIP) moving toward the Fed's 2% target and about US economic growth.
Yellen's general tone was dovish toward the bond rally and the recent falling yields on US Treasuries (GOVT). But her expressed expectation of a flattening curve, as a result of balance sheet unwinding, dampened bullish spirits among bond (BND) traders.
Bond yields were quick to reverse. Yellen stated that the Fed intends to shrink the balance sheet in a slow and predictable manner, noting that the Fed detailed its plan during its last monetary policy meeting.
Article continues below advertisement
Federal funds rate to remain the key monetary policy tool
Yellen has again emphasized that balance sheet unwinding will continue to happen in the background, while the Fed uses the federal funds rate to manage monetary policy. Yellen said that balance sheet unwinding is likely to result in some increase in long-term rates (TLT) over short term (SHY) rates.
The process, however, is likely to take many years to bring back excess reserves to normal levels, but it's highly unlikely that reserves will go back to pre-crisis levels.
What to expect
It's true that the bond markets are headed for more trouble once the process of balance sheet unwinding begins. Still, investors have to bear in mind that increasing interest rates are likely to attract fresh inflows.
US Treasuries remain a preferable destination for funds, and Fed is the only central bank that has begun tightening. Short-term pain for bond markets thus remains a real possibility in the current market conditions.
In the next and final part of this series, we'll see what happened with the US dollar (UUP) after Yellen's testimony to Congress.