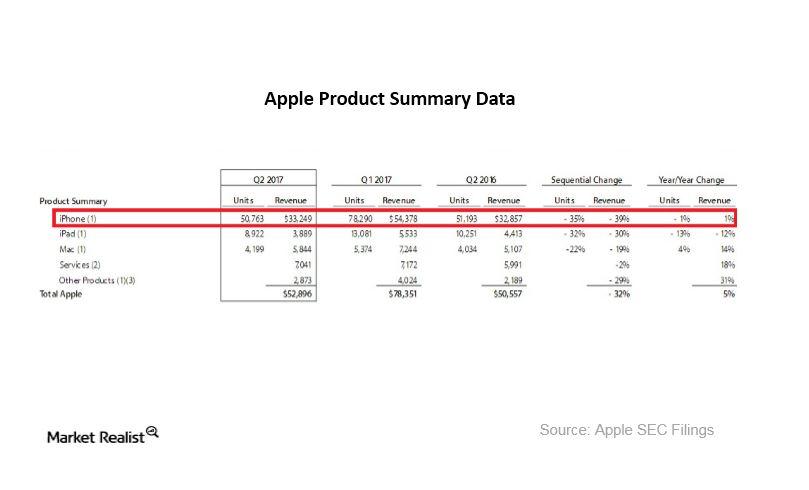 Why Delaying the iPhone 8 Could Help or Hurt Apple
By Ruchi Gupta

Aug. 18 2020, Updated 6:36 a.m. ET
Tenth anniversary of the iPhone
Rumors that Apple (AAPL) could delay the iPhone 8 launch by up to a few months can be interpreted in two ways—positive or negative. The iPhone 8 is the unofficial name of Apple's next flagship smartphone product. Its launch is heavy in symbolism, as it will mark Apple's ten years in the smartphone business.
If the delay is because Apple is taking its time to carefully build a product to give it an edge in the highly competitive smartphone market, then the delay could be worthwhile. Samsung (SSNLF), with its Galaxy S8, together with a host of high-profile gadgets from Microsoft (MSFT), Alphabet's (GOOGL) Google, and China's (MCHI) Xiaomi and Huawei, have raised the smartphone bar in terms of features. The iPhone 8 would disappoint if it didn't offer something new.
To give the iPhone 8 the distinction it needs to overcome competition, Apple might want to take time to ensure that it launches an excellent product that gets heads turning.
Article continues below advertisement
How delaying the iPhone 8 could be harmful
However, delaying the iPhone 8 by even a few weeks could give competitors more room to build defensive walls and crowd the market. Samsung, for instance, is preparing to launch its Galaxy Note 8 in August, which would see it lead the iPhone 8 to market by at least a month, assuming no delays. But if the iPhone 8 is hit by delays as rumored, then Samsung's Note 8 could enjoy nearly two months of lower competition at the expense of the iPhone 8.
No wonder some analysts have downgraded their iPhone shipment outlooks. As the chart above shows, the iPhone is Apple's main source of revenue, yet the business has struggled amid tough competition.