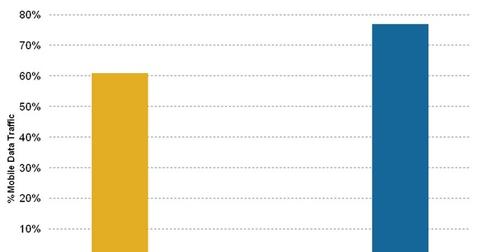 Why Comcast Is Concentrating on Its Wireless Business
By Shirley Pelts

Jul. 21 2017, Updated 8:06 a.m. ET
Comcast's focus on its Wireless business
Comcast (CMCSA) is increasingly concentrating on its Wireless business. In late June 2017, there were rumors that Comcast and Charter Communications (CHTR) were looking at a wireless partnership with Sprint (S).
Earlier this year, Comcast launched its wireless service, Xfinity Mobile. The company has also partnered with Charter Communications to boost its operational efficiencies in its Wireless business.
In early 2017, Comcast spent ~$1.7 billion at the FCC's 600 MHz (megahertz) auction. According to Comcast, the average price per megahertz POP (measuring the size of the population) that it paid at the FCC auction was $1.17, bringing its total net spectrum expense to $1.3 billion.
Comcast is also looking at 5G technology and is currently in the process of testing out its 5G technology over coaxial and fiber-optic cable. Many companies believe that 5G technology could provide 10x–100x faster wireless speeds than 4G (fourth-generation) technology.
The increasing focus on the wireless business from media and telecommunication companies has been due to the increase in mobile video traffic. It is anticipated that by the end of 2020, video could comprise 77% of mobile data traffic in the US.
Article continues below advertisement
Financial impact on Comcast from the wireless business
Comcast expects that its Wireless business, once scaled up, could achieve a positive net present value and lower churn. The company also expects that the launch of its Wireless business could impact the company's operating cash flow for fiscal 2017 for its Corporate and Other segment by $200 million–$300 million.