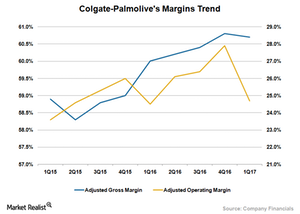 Why Colgate-Palmolive's Margins May Improve in 2Q17
Cost-savings to drive margins
Colgate-Palmolive (CL) has resorted to cost-cutting and productivity-saving measures to drive margins growth as volumes continue to decline in most of its markets. The company's strategy to offset the impact of an adverse currency movement through higher pricing in emerging markets helped its margins growth.
Most of the companies operating in the consumer product category are relying on cost-saving measures to drive margins growth amid a slow-growth environment. For instance, Procter & Gamble (PG) and Kimberly-Clark (KMB) posted higher margins despite lower sales as cost reductions boosted their overall margin performances.
During the last reported quarter, Colgate-Palmolive's margins benefited from its Funding the Growth initiative aimed at lowering costs and driving productivity. The company saw an improvement of 70 basis points in its adjusted gross margin. Its adjusted operating margin expanded 20 basis points.
Article continues below advertisement
Outlook
Colgate-Palmolive's profitability in the coming quarters will depend mainly on its cost-cutting and productivity-saving measures. Management expects gross margins to expand at the higher end of its projected range of 75–125 basis points in 2017. Its operating margins will likely benefit from higher gross margins.
However, lower volumes, higher raw material and packaging costs, and adverse currency movements are expected to dent the company's margins performance.