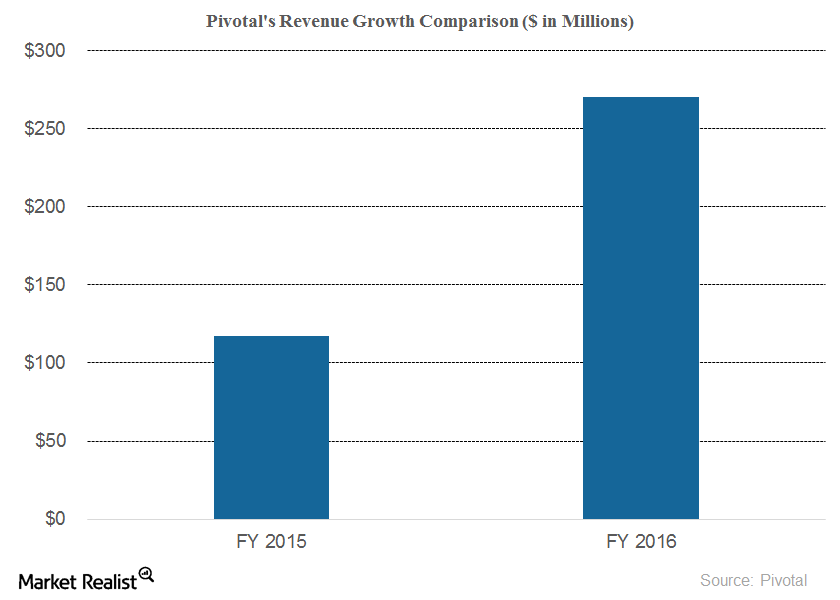 Why Cognizant and Pivotal Extended Their Partnership
By Adam Rogers

Jul. 31 2017, Updated 9:11 a.m. ET
Partnership will accelerate adoption of enterprise cloud applications
In May 2017, Cognizant Technology Solutions (CTSH) announced a new partnership with Pivotal, which will likely accelerate the adoption of cloud applications and other software platforms. Cognizant's expertise in application engineering coupled with Pivotal Cloud Foundry will enable companies to deploy critical cloud-based applications.
Cognizant's partnership with Pivotal Cloud Foundry first began in 2015 when software platforms were modernized for several large businesses. The two companies are now investing in building cloud applications and infrastructures for companies at scale. According to Cognizant, running applications on the cloud will improve automation, efficiency, agility, and security for businesses as well as lower their costs.
Article continues below advertisement
According to the terms of this partnership, Cognizant will integrate its Digital Business capabilities with Pivotal's software development methodology to drive clients' digital transformations. Pivotal's CEO (chief executive officer Rob Mee said, "Today we are at a major inflection point in global business, and Pivotal is at the fulcrum of that change. We are helping iconic companies transform their businesses with our unique software development methodology and modern cloud-native platform."
Pivotal revenue rose significantly in 2016
Pivotal was spun out of EMC and VMWare (VMW) in 2012. Revenue from Pivotal Cloud Foundry, Pivotal's cloud deployment product, rose 130.0% YoY (year-over-year) to $270.0 million in fiscal 2016, from $117.4 million in fiscal 2015. However, the company didn't disclose its profit margins and other metrics.
Pivotal claims to have gained tremendous traction in terms of its customer base. It said it now services seven of the top ten banks, five of the top ten insurance firms, and six of the top ten largest car manufacturers in the United States.
Using Pivotal Cloud Foundry products, companies can build applications that run on public cloud platforms such as Amazon Web Services (AMZN), Microsoft Azure (MSFT), and Google (GOOG), as well as on businesses' private cloud infrastructures.
Pivotal has raised $1.7 billion in total funding. In May 2016, it received Series C funding of $253.0 million from Ford (F) and Microsoft (MSFT).