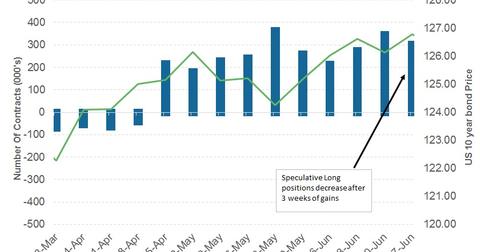 Why Central Bankers Are Ruling the Bond Markets
By Ricky Cove

Updated
Central bankers hint at hawkishness
US Treasury bonds (GOVT) had a bearish week at the end of June. Bond yields across the board rallied in response to hawkish comments from the Fed members, the Bank of England, the European Central Bank (with some contrasting views from a few members), and the Bank of Canada.
The first comments were made by the ECB chairman, Mario Draghi, who hinted at policy changes ahead. Draghi's statement led to a minor taper tantrum in the fixed income markets. Bond yields on both sides of the Atlantic rallied in response. The tapering of the stimulus from the ECB could lead to lower bond prices.
Article continues below advertisement
ECB members tried to quell these fears following Draghi's comments, noting that the markets had misinterpreted them. According to a Bloomberg report, an unnamed ECB policymaker stated that Draghi's speech was intended to strike a balance between recognizing economic growth and a need for continued stimulus.
Market reaction to these hawkish comments
US bond (BND) yields remained below their recent highs despite the hawkish comments from central bankers. Positive economic data from the US on June 30, 2017, included a higher revised Michigan sentiment index, and the Chicago PMI helped steady bond prices.
The two-year (SHY) yield moved to ~1.4%, and the ten-year (IEF) yield reached 2.3%. The two-to-ten-year spread that the markets have been concerned about closed at 0.92%.
Week ahead for the bond markets
The markets are anticipating the FOMC's meeting minutes from the June 13–14 policy meeting, as well as the jobs report on Friday, July 7. Investors could be hoping for some additional insight on the Fed's hawkish stance, where the committee has overlooked weak data from recent months.
Federal Reserve officials are scheduled to speak, but there are no expectations for a change in policy. In terms of Treasury auctions, the three-year, ten-year, and 30-year (TLT) bonds worth $56 billion are scheduled to be offered this week. Overall, in this holiday-shortened week, markets could adjust to the changing policy guidance from the central bankers.
In the next part of this series, we'll analyze how the ECB helped the euro rally to its one-year peak with its hawkish comments.