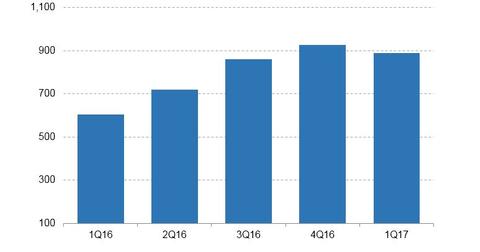 Why Amazon's Likely to Fight for Amazon Web Services
By Neha Gupta

Jul. 20 2017, Updated 9:05 a.m. ET
Rivals fueling Amazon Web Service exodus
It emerged recently that Wal-Mart (WMT) and other Amazon (AMZN) rivals are telling their technology suppliers to get out of Amazon's cloud if they want to keep their business. The Wall Street Journal reported that there have been calls to boycott Amazon's cloud, AWS (Amazon Web Services).
A Wal-Mart spokesperson confirmed that the retailer has asked its technology vendors not to use AWS. The retailer's view seems to be that relying on technology based on AWS could expose its sensitive data to its bitter rival, Amazon. However, Amazon swiftly hit back, claiming that Wal-Mart is misinformed. Legacy retailers such as Wal-Mart and Target (TGT) are unhappy with the way Amazon has upended the retail sector.
Article continues below advertisement
Amazon is poor without AWS
For Amazon, a problem with AWS strikes at its heart. And numbers tell the story. 
In 1Q17, AWS sales grew more than 42.0%, in contrast with Amazon's overall sales growth of 23.0%. AWS operating income rose 47.0% to $890 million, and it contributed about 89.0% of Amazon's overall operating income in the quarter.
The chart above shows AWS's operating income for the last couple of quarters. Considering AWS's contribution to Amazon's profitability, it goes without saying that this is a business that Amazon is going to strive to protect.
Would Amazon divest AWS?
With rivals expressing unease about running their data on AWS, Amazon might have to consider divesting the business if push comes to shove. In 2015, eBay (EBAY) made a similar move when it separated its payment unit, PayPal (PYPL), into an independent company to free it to do business with retail rivals. PayPal, which has continued to grow its list of merchant customers, enjoys the freedom.