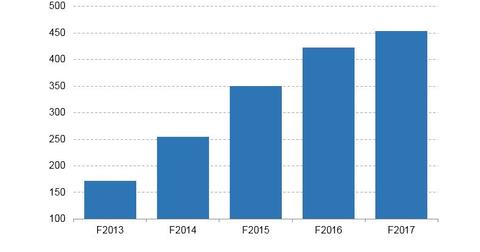 Where Does Alibaba Want to Be in 20 Years?
By Neha Gupta

Updated
Working against a deficit of 1.5 billion customers
Alibaba (BABA) has set a target to reach 2.0 billion consumers within the next 20 years. At the end of fiscal 4Q17,[1. fiscal 4Q17 ended March 2017] the company had 454.0 million active buyers on its retail marketplaces, an increase from 443.0 million at the end of fiscal 3Q17. Alibaba has recently hinted that its customer base has surpassed 500.0 million buyers.
The company's next quarterly report is expected on August 9.
If Alibaba has reached 500.0 million consumers across its platforms, it means the company has a deficit of 1.5 billion customers to reach its target. For Alibaba to reach 2.0 billion consumers in the next 20 years, it would have to add at least 75.0 million new buyers annually until 2037.
Article continues below advertisement
Inconsistent customer base growth
In fiscal 2017, Alibaba gained 31.0 million buyers. It had gained 73.0 million new buyers in fiscal 2016 and 95.0 new customers in fiscal 2015. The chart above shows how Alibaba's buyer base has evolved in the past few years.
In the e-commerce industry, more customers lead to more revenues. As it seeks to dominate JD.com (JD) in China and catch or overtake Amazon (AMZN), eBay (EBAY), and Walmart (WMT) in international markets, Alibaba is betting on customer base growth.
Attracting consumers with Western products
Through initiatives such as the business network that seeks to introduce more American SMEs (small and medium enterprises) to the Chinese market, Alibaba hopes to draw more consumers to its platforms by offering Western goods.