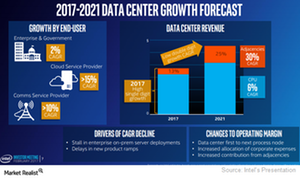 What's Intel's Strategy to Boost Growth in the Data Center Space?
By Puja Tayal

Updated
Why Intel reduced its data center growth estimate
The data center space was once Intel's (INTC) key growth driver. However, the company has revised its DCG (Data Center Group) segment's growth forecast down to the high single digits for 2017. 
At the Bank of America Merrill Lynch Global Technology Conference, Intel's CEO, Brian Krzanich, explained the assumptions behind Intel's DCG growth forecast.
Krzanich stated that Intel expected its DCG revenue to grow annually in the 12%–15% range as large cloud service providers such as Google (GOOG), Alibaba (BABA), and Microsoft (MSFT) were building out their data center capacities. However, these companies completed their buildouts sooner than anticipated, which slowed Intel's server CPU (central processing unit) sales.
Article continues below advertisement
Intel knew that the cloud buildup would end, so it started investing in adjacencies such as Omni-Path Fabric, silicon photonics, and 3D XPoint. Intel expects these adjacencies to grow in the double digits and partially offset the slow growth in the CPU space, pushing overall DCG sales growth to the high single digits.
Intel expands data center offerings beyond CPU
Intel is a leader in the server CPU market with more than a 99% market share. However, as the overall server CPU market has slowed, the company has expanded its data center horizons to include networking and other products and offer a complete rack solution. This move has created significant growth potential for the company.
The company's networking revenue has risen from a few hundred million dollars to ~$2 billion per year, and this revenue is expected to rise in the double digits as the 5G (fifth-generation) evolution begins. This 5G deployment will require telecommunications companies to have software-defined networks in place. Intel currently has less than a 20% market share in the space, giving it ample room to grow.
How will Intel address data center competition?
Advanced Micro Devices (AMD) and Qualcomm (QCOM) are looking to challenge Intel in the data center space with their new server CPUs. Krzanich explained that Intel doesn't view these chips as strong competition because it's changed its data center approach from offering a server CPU to offering a complete rack solution.
Any competitor would only enter the data center market with a singular component of the rack such as fabric or CPU. Intel is optimizing its data center portfolio across the rack, offering a 25%–30% better performance than its competitors' components at a reduced cost. Competitors would have to compete with Intel not at the component level but at the rack level.
Intel is also making efforts to tap the next big wave of the AI (artificial intelligence) revolution. We'll look at the company's AI strategy in the next article.