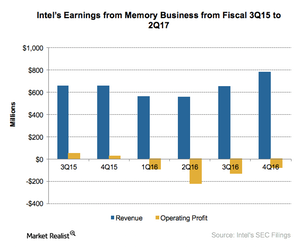 What Will Drive Intel's Memory Business in 2017?
Intel's memory business's earnings
Intel (INTC) is expanding its data center offerings beyond server processors and into accelerators, networking products, and memory. The company entered the memory market in 2015 to develop nonvolatile memory products in collaboration with Micron Technologies (MU).
Intel converted its Chinese (MCHI) facility in order to manufacture 3D NAND and 3D XPoint-based memory products. As the company's investment in the factory didn't yield much revenue in its initial stages, its memory business reported poor revenue and losses in 2016.
Article continues below advertisement
Intel started shipping its 3D NAND SSDs (solid-state drive) and Optane SSDs for the data center market in 1Q17, which saw its memory revenue rise 55% YoY (year-over-year) to $866 million. However, the division's operating losses rose from $95 million in 1Q16 to $129 million in 1Q17 due to its large investments in ramping up the production of its 3D NAND products and developing its 3D XPoint products.
Memory business outlook
Intel expects its memory revenue to rise in the double digits in 2Q17 and 2H17 driven by strong demand. Micron's NAND revenue rose 36% YoY in the May 2017 quarter, indicating strong demand momentum in the NAND market.
Despite its strong revenue, Intel's memory business will take some time to break even and report profits due to its high investments. Intel expects its 3D NAND segment to break even by the end of 2017 and to start reporting profits by the start of 2018. It expects its 3D XPoint segment to break even and report profits by 2H18.
Next, we'll look at Intel's memory products in detail and understand the opportunities they present to the company.