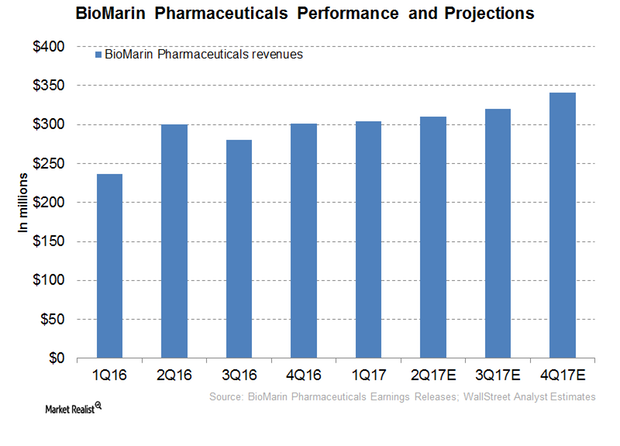 What to Expect from BioMarin Pharmaceuticals in 2017
By Daniel Collins

Dec. 4 2020, Updated 10:51 a.m. ET
BioMarin Pharmaceuticals' revenue trends
In 2016, BioMarin Pharmaceuticals (BMRN) reported revenues of around $1.1 billion, a ~25% increase year-over-year (or YoY). In 1Q17, the company generated revenues of around $304 million, which reflected ~28% growth YoY and 1% growth quarter-over-quarter. In 1Q17, BioMarin Pharmaceuticals could reduce the GAAP net loss to $16 million compared to $83 million in 1Q16. The company expects net revenue in fiscal 2017 to be in a range of $1.25 billion to $1.3 billion.
Revenue growth of BioMarin Pharmaceuticals may boost the iShares Nasdaq Biotechnology ETF (IBB). The company holds around ~2.6% of IBB's total portfolio holdings.
The above graph shows the revenue trajectory of BioMarin Pharmaceuticals from 1Q16 to 1Q17 and analysts' estimates from 2Q17 to 4Q17. To know more about BioMarinPharmaceuticals' historical revenue trend, please refer to BioMarin to Cross $1 Billion Revenue in 2016.
Article continues below advertisement
Key growth drivers
In April 2017, the U.S. Food and Drug Administration (or FDA) approved BioMarin Pharmaceuticals' Brineura for the treatment of ceroid lipofuscinosis type two (or CLN2) disease in patients who are three years or older. Brineura was the first approved drug for the treatment of children with CLN2 disease.
CLN2 disease is an ultra-rare disease characterized by complete loss of ability to walk and talk in children between age 3to 6 years. The disease shows its symptoms with seizures in children in the age group of 2 to 4 years, followed by motor deterioration, dementia, blindness and other neural disorders. The disease progresses rapidly, and by the age of 6 years, the patient loses complete ability to walk and talk. It has been observed that death happens between age 8 years and 12 years.
BioMarin Pharmaceuticals' peers in orphan drugs market include Alexion Pharmaceuticals (ALXN), Vertex Pharmaceuticals (VRTX), Celgene (CELG), Roche and many others.
About Brineura
Brineura treatment is an enzyme replacement therapy. The drug is a recombinant form of human tripeptidyl peptidase 1 (or TPP1) which is deficient in CLN2 disease patients.
In clinical trials, the drug demonstrated the capacity to slow down the loss of ambulation in symptomatic pediatric patients aged three years or above with CLN2 disease. This enzyme replacement therapy is injected directly into the fluid of the brain to address the underlying cause of the disease by replacement of deficient TPPI enzyme. In the clinical trial, patients were evaluated for a decline in motor domain of the CLN2 Clinical Rating Scale. Amongst 22 enrolled patients treated with Brineura, 21 patients did not have a decline in motor domain of the CLN2 Clinical Rating Scale while one patient who had dropped out of the study reported drop in motor domain.