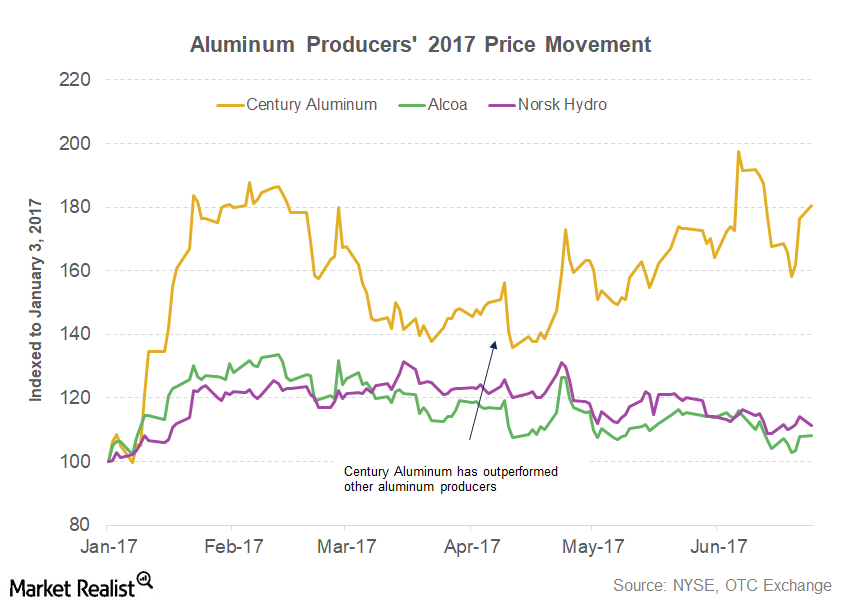 What to Expect from Alcoa this Earnings Season
By Mohit Oberoi, CFA

Aug. 18 2020, Updated 5:30 a.m. ET
Alcoa
Alcoa (AA) is expected to release its 2Q17 earnings on July 19 after markets close. Century Aluminium's (CENX) 2Q17 earnings are expected on August 2 while Norsk Hydro (NHYDY) is expected to release its 2Q17 earnings on July 25.
Article continues below advertisement
Aluminum producers
It's been a decent year so far for aluminum producers (XME). Alcoa stock is up 23.2% year-to-date and has outperformed Arconic (ARNC). Notably, Alcoa and Arconic split into two separate companies last year. The move was supported by most analysts expecting value unlocking after the two companies get listed as separate entities.
While Alcoa has piggybacked aluminum prices and moved to higher price levels, Arconic has sagged. However, some company-specific factors—including reports that Arconic supplied parts for Grenfell Tower in London—have had a negative impact on Arconic. Furthermore, investors aren't too excited about companies in the aerospace component space amid concerns over the sector's near-term outlook. This attitude starkly contrasts with the previous years, when none other than Warren Buffett made a major acquisition in this sector by acquiring Precision Castparts. Many observers see the acquisition and, more importantly, the deal's valuation as the key driver behind Alcoa Corporation's split.
Series overview
Alcoa's 1Q17 earnings were a mixed bag for investors. While the company posted better-than-expected profits, its revenues fell well short of analysts' estimates. In this series, we'll see what analysts are projecting for Alcoa's 2Q17 earnings. We'll also look at the different factors that could impact Alcoa's 2Q17 financial performance. We'll also see how analysts are rating Alcoa and other aluminum producers ahead of their 2Q17 earnings release.
Let's begin by analyzing what analysts are projecting for Alcoa's 2Q17 revenues.