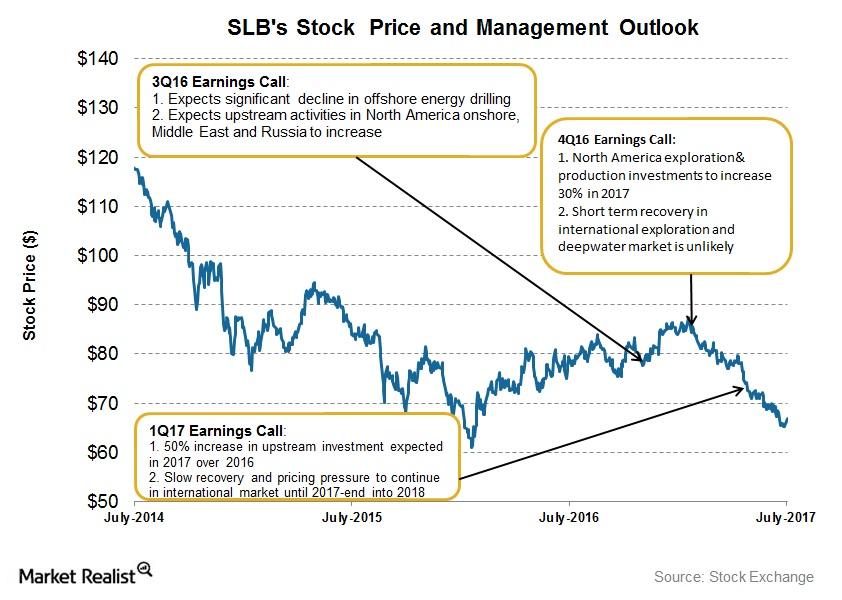 What Schlumberger Expects for 2017
By Alex Chamberlin

Dec. 4 2020, Updated 10:53 a.m. ET
What are Schlumberger's views on North America? 
Schlumberger (SLB) expects the North American onshore market to continue to improve in 2017. In Schlumberger's 1Q17 earnings press release, chairman and CEO Paal Kibsgaard stated that "at present, the region in the world showing clear signs of increased E&P[1.exploration and production] investments in 2017 is North America land, although investment levels in the Middle East and Russia are also expected to remain resilient this year."
Article continues below advertisement
Problems in the international market
Schlumberger believes that the international energy drilling and production market could remain under-invested in 2017. In the 1Q17 earnings call, Kibsgaard said "However, for the rest of the world, which still make up more than 50 million barrels per day of oil production, we are heading towards a third year of significant underinvestment, which increases the likelihood of a medium-term supply deficit as produced reserves are not replaced in sufficient volume." For more on the company, read Schlumberger: Bumpy Roads Might Be in Its Future.
Recent events that could drive Schlumberger's returns
On June 29, 2017, Schlumberger signed an agreement with Nigerian National Petroleum and FIRST Exploration & Production to develop energy fields in offshore Nigeria. Schlumberger will provide project development services at the initial stages of the development.
On June 20, TRC Capital sought less than 1% of Schlumberger's outstanding shares in a mini-tender offer. The offer was not endorsed by Schlumberger.
On June 14, Schlumberger announced a strategic partnership with Seitel related to reimaging and geophysical data acquisition across onshore Mexico. Schlumberger signed a memorandum of understanding with Saudi Arabia's Saudi Aramco in May 2017. In March 2017, Schlumberger and Weatherford International (WFT) disclosed their proposed joint venture, OneStimSM.
Next, we'll discuss the US rig count and Schlumberger's North American revenue.