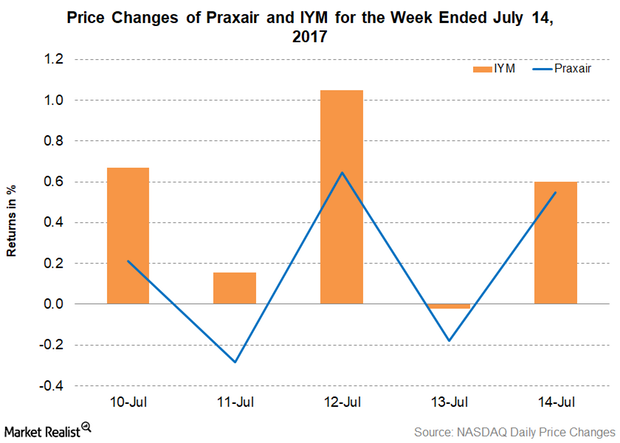 What Praxair Has on Deck in South Korea
Praxair's new plant
On July 12, 2017, Praxair (PX) announced that it will begin a new air separation plant expected to supply 700 tons per day of nitrogen to a Samsung display manufacturing facility in Tangjeong, South Korea. Praxair has been supplying industrial gases like nitrogen, oxygen, argon, and helium to Samsung since 2005. This will be the third plant to support this facility. The financial aspects of the deal have not been disclosed.
Praxair Korea President B.S Sung stated: "Praxair has enjoyed a relationship with Samsung for more than 25 years and is committed to supporting their expanded production capabilities with a broad array of gases, applications technologies, and customer support."
Article continues below advertisement
Praxair's' stock performance
Praxair ended last week (ended July 14) on a strong note, having gained 0.9% and closing at $134.31. But it underperformed the iShares US Basic Materials ETF, which returned 2.5% for the week.
Praxair's stock is now trading 6.7% above its 100-day moving average price of $125.83, which indicates that the stock is on an upward trend. The stock has returned ~14.6% so far in 2017.
Analysts expect PX's target price to be $139.06, which implies a potential return of 3.5% over its closing price of $134.3 on July 14, 2017. PX's 14-day RSI (relative strength index) of 56 indicates that the stock is neither overbought nor oversold.
Notably, IYM has 6.2% of its investment in Praxair. The top holdings of the fund include Dow Chemical (DOW), Dupont (DD), and Monsanto (MON), which had weights of 12.0%, 11.8%, and 8.3%, respectively, on July 14, 2017.