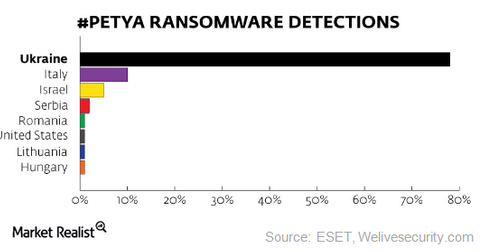 What Microsoft Has to Say about Petya
By Anne Shields

Jul. 3 2017, Published 4:34 p.m. ET
Petya is the recent ransomware to infect several countries
The latest ransomware shock has been brought to you by Petya. On June 27, Petya ransomware was reported to have hit Europe (EFA)—Ukraine, in particular—and then spread to 65 countries across North and South America, according to Microsoft (MSFT).
According to Microsoft, Petya ransomware "has worm capabilities, which allows it to move laterally across infected networks." Microsoft's investigation shows that "this new ransomware shares similar codes and is a new variant of Ransom: Win32/Petya." But Petya appears to have been more sophisticated.

Article continues below advertisement
Ukraine's heaviest damage
Microsoft's report stated: "We saw the first infections in Ukraine—more than 12,500 machines encountered the threat…We then observed infections in another 64 countries, including Belgium, Brazil, Germany, Russia, and the United States."
The above chart by ESET, a Slovakian security software firm, shows that 75% of the infections detected to date happened in Ukraine. The top ten countries hit by the malware were from Eastern, Central, or Southern Europe. ESET is a Slovakian security software firm.
The world is still reeling from the impact of WannaCry ransomware, which hit almost 150 countries, last month. Among all the countries affected, Ukraine was the worst affected by WannaCry.
Continue reading this series (below) for a discussion of the mechanism and payment method employed by Petya ransomware.