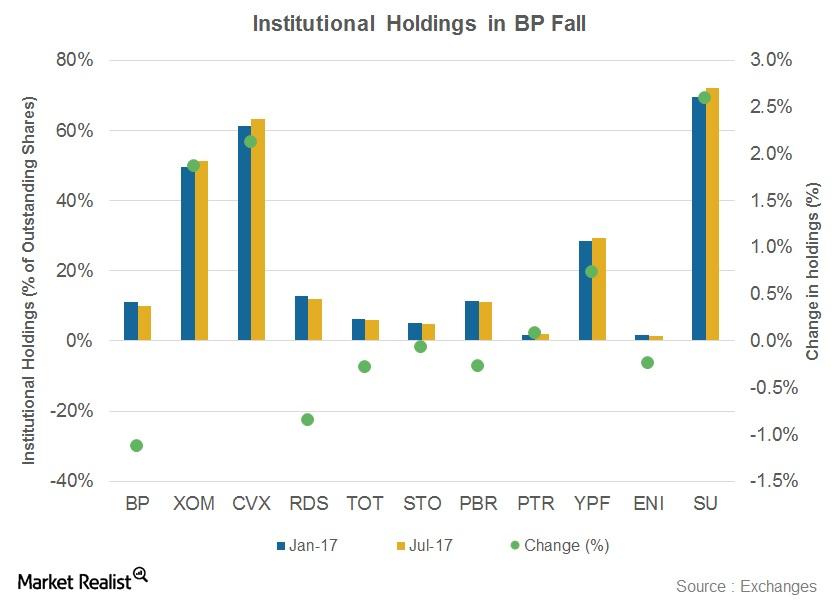 What Institutions Are Selling BP Stock?
Series so far
So far in this series, we've looked at BP's (BP) exploration portfolio, upstream projects, expected earnings for 2Q17, debt position, and liquidity. In the previous part, we looked at implied volatility based on BP's stock price estimate for the eight days ending July 14, 2017. We'll now look at institutional holdings in BP.
Article continues below advertisement
Institutional holdings
The institutional holdings measure is the percentage of a company's share owned by institutions such as mutual funds, pension funds, hedge funds, banks, and insurance companies. The measure indicates sophisticated market participants' confidence in a stock. Everything else being equal, higher institutional holdings suggest a favorable outlook.
Institutional holdings in BP
Institutional holdings in BP currently stand at ~10%, having fallen ~1% in the past six months. Institutions with huge ownerships include Barrow, Hanley, Mewhinney & Strauss, State Street Global Advisers, Franklin Advisers, and Dimensional Fund Advisers. Over the past six months, only State Street has raised its total holdings in BP. The remaining three institutions have reduced their holdings. Whereas Arrowstreet Capital Limited Partnership and Franklin Advisers have sold a lot of BP shares in the past six months, Jane Street Capital has bought a lot.
Peers' institutional ownership
Peers Royal Dutch Shell (RDS.A), Total (TOT), and Petrobras (PBR) have seen their institutional ownership fall ~1% in the past six months. Institutional ownership in RDS.A, TOT, and PBR stands at ~12%, ~6%, and ~11%, respectively. However, some integrated energy stocks saw a rise in their institutional ownership, such as ExxonMobil (XOM), Chevron (CVX), YPF (YPF), and Suncor Energy (SU). XOM, CVX, YPF, and SU's institutional ownership surged ~2%, ~2%, ~1%, and ~3%, respectively, to ~51%, ~63%, ~29%, and ~72%. In the next part, we'll evaluate BP's short interest.