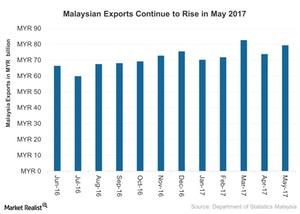 What Improved Global Demand Means for Exports in Malaysia
By Mary Sadler

Updated
Malaysian exports
The Malaysian (EWM) economy reported improved growth in 1Q17, largely supported by the rise in exports. Malaysian trade continued to improve in May 2017, with a 31.5% rise over the same period last year, and improved global (ACWI) demand seems to be helping the Malaysian economy overall.
Malaysian exports stood at 79.4 billion RM (Malaysian ringgits or MYR)—a rise of 7% over the previous month. Exports in May 2017, compared with same period last year, reported a massive increase of 32.5%. The USD-MYR exchange rate stood at 4.298 on July 10, 2017.
Article continues below advertisement
Exports in May 2017
Malaysian exports in May 2017 continued to increase, beating the market expectation of 21.3% growth. Exports in May grew for the seventh consecutive month. The main export products that showed improved demand included electrical and electronic products, refined petroleum products, palm oil and palm-based products, natural gas, crude oil, natural rubber and timber, and timber-based products.
Exports to China (FXI) surged in May by 51.5%—the highest annual growth since February 2010. Exports to EU (VGK) countries rose 29.7%, and exports to the US (SPY) rose 16.3% in May.
FDI and exports in Malaysia
Malaysian exports are backed by FDI (foreign direct investments), which have been an important factor supporting Malaysia's GDP growth in recent years. FDI in Malaysia has been on a rise in 2017 and stood at 17 billion RM in 1Q17—its highest level since December 2012. Increased investments are expected to support the manufacturing sector, which is largely driven by exports.
Meanwhile, recovery among commodity (DBC) (USO) prices also seems to have boosted exports in 2017. But the more recent slump in commodity prices might affect Malaysian trade in 2017.
Continue to the next part for a look at Malaysia's manufacturing PMI.