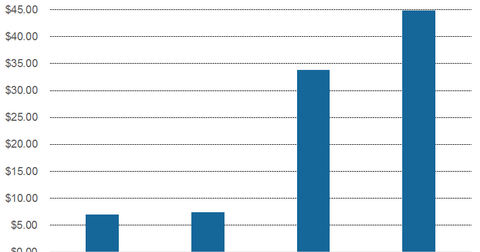 What Impacted Alibaba Stock in June 2017?
By Adam Rogers

Updated
Stock rose 14% last month
The stock of China's (FXI) Internet giant Alibaba (BABA) rose 14.0% in June 2017 to close at $140.90. The stock rose 12.3% in the week ended June 9, 2017, after the company announced that it expects to post record revenue in its current fiscal 2018. Alibaba expects revenue to rise between 45.0% and 49.0% YoY (year-over-year) to approximately $343.3 billion in fiscal 2018.
Analysts covering Alibaba expect its revenue to rise 47.1% YoY in fiscal 1Q18 to $7.0 billion, 47.2% YoY in fiscal 2Q18 to $7.4 billion, and 45.3% YoY in fiscal 2018 to $33.9 billion. Analysts further expect Alibaba's revenue to rise 32.5% YoY in fiscal 2019 to $44.9 billion.
Article continues below advertisement
E-commerce expected to drive revenue
China's e-commerce market was valued at more than $700.0 billion last year and is expected to touch $1.7 trillion in sales by the end of 2020. In the last reported quarter (fiscal 4Q17), Alibaba reported revenue of $5.6 billion, a rise of 59.8% YoY with EPS (earnings per share) of $0.63.
Alibaba's e-commerce business segment accounted for 80.0% of its revenue in fiscal 4Q17 and rose 47.0% YoY to $4.6 billion. However, Alibaba is not just banking on e-commerce to drive revenue. While revenue from its cloud computing business rose 103.0% YoY to $320.0 million, its digital media revenue rose 234.0% YoY to $565.0 million in fiscal 4Q17.
Alibaba's digital media unit is where it competes with the likes of Netflix (NFLX), Amazon (AMZN) Prime Video, and Alphabet's (GOOGL) YouTube.