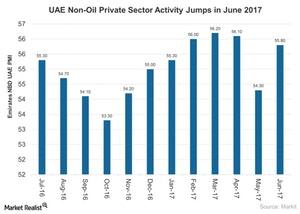 What Happened to the UAE's Non-Oil Private Sector in June?
By Mary Sadler

Jul. 11 2017, Updated 2:05 p.m. ET
The UAE's diversified economy
The United Arab Emirates (UAE), one of the most diversified economies in the GCC (Gulf Cooperation Council), recorded a firm expansion in the non-oil sector in June 2017. The rise in the non-oil private sector in 1Q17 was primarily driven by domestic demand.
The UAE's (GULF) non-oil private sector PMI (purchasing managers' index) rose to 55.8 in June 2017, compared with 54.3 in May 2017. Both output and new orders grew at faster paces in June 2017 than in the previous month.
Article continues below advertisement
UAE's non-oil private sector in 2017
The UAE's non-oil business, after seeing a weak performance in May 2017, posted a strong rebound in June 2017. The nation's PMI remained comfortably above the critical level of 50, which signals a healthy improvement in non-oil private sector activity.
Improvements in operating conditions were led by a sharper increase in production from a 13-month low in May 2017, and increased new orders and favorable economic conditions appear to have supported the private sector in June 2017.
Purchasing activity and employment
New orders grew at a quicker pace in June 2017, compared with the five-month low we saw in May 2017. The rise in new business was attributed to discounts and increased marketing efforts, and purchasing activity rose to meet increasing demand. However, employment remained at an eight-month low.
On the cost front, the UAE's input costs rose at slower pace in June 2017 after a decline in May 2017. Output costs fell in June 2017, as cost burdens weren't transferred to customers amid increased competition.
Expectations
Businesses expect increased output from the UAE over the next 12 months, as new projects and improved economic conditions are expected to support activity in the nation's non-oil sector in 2017. The iShares MSCI UAE Capped ETF (UAE) fell ~1% in June 2017 but has still gained ~2% so far in 2017 (as of July 10).
In the next and final part of this series, we'll take a look at Qatar's economy.