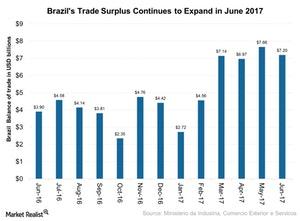 What Happened to Brazil's Trade Surplus in June
By Mary Sadler

Updated
Trade balance in June
Brazil's (EWZ) trade balance since the beginning of 2017 indicates continuous expansion, with exports rising more than imports. Brazil recorded a $7.2-billion trade surplus in June 2017, compared with $3.9 billion in surplus in June 2016.
Article continues below advertisement
Trade surplus in June 2017
The trade surplus in June 2017 remained above the market expectation of $6.9 billion. The trade surplus in first six months stood at $36.2 billion, which was a 53.1% increase over the same period the previous year.
The rise in surplus resulted from increased exports, which grew 19.3%, while imports increased 7.3% during the same period.
Exports from Brazil in June 2017 stood at $19.8 billion, down 0.02% from the $20.0 billion we saw in May 2017. But exports rose 23.9% in June over the same period last year.
Exports grew for semi-manufactured products—namely, iron and steel, sugar, pulp, sawn wood, and leather. Basic export products included corn, crude oil, copper, iron ore, coffee beans, and soybeans. Exports of manufactured products rose 16.1%, including steel, iron pipes, and cars.
Commodity prices in 2017
Higher prices for iron ore, oil (USO), soy, cargo vehicles, and automobiles (CARZ) were seen to be the main drivers of increased exports in June 2017. But commodity prices (DBC) since the beginning of 2Q17 are in a declining trend, which is likely to impact the trade balance of Brazil (EEM) for the rest of 2017.
According to the Central Bank of Brazil, the trade surplus in Brazil (BRZU) is expected to reach $54 billion in 2017, with a rise in revenues related to oil, iron ore, and soybeans.