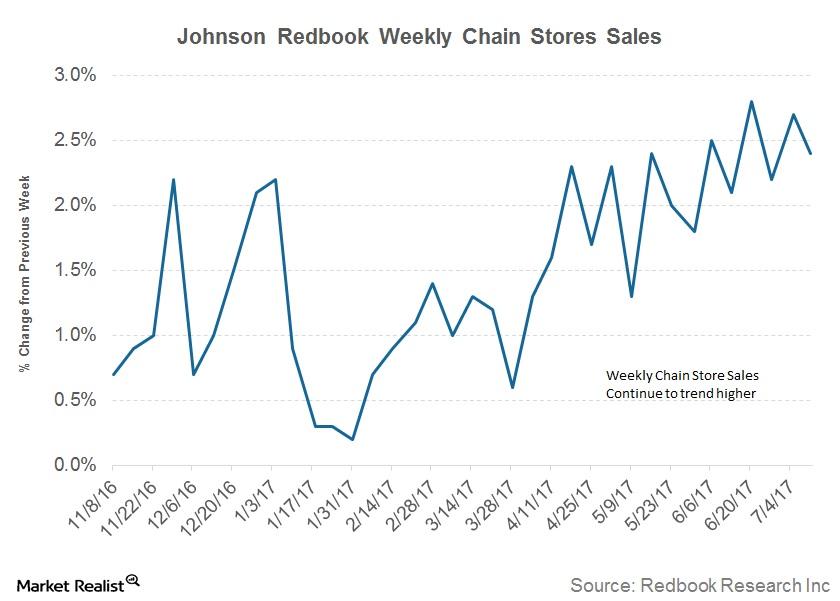 What Does Johnson Redbook Weekly Store Report Say about Economy?
About Johnson Redbook Research
Redbook Research publishes weekly data on retail sales across the nation. This independent research institute monitors, analyzes, and details the trends in retail sales, and this data can be used to analyze consumer spending and retail inventories. The Johnson Redbook Index is a weekly report published every Tuesday. The correlation between this index and monthly retail sales (general merchandise and clothing component) has been impressive, and many economists use this data to project future retail sales and consumer trends.
Article continues below advertisement
Johnson Redbook retail sales improved in June
The Redbook Index averaged 2.4% growth in June as compared to monthly growth of 1.8% in May. The trend has remained positive after the sharp drop in January this year. Brick and mortar stores like Walmart (WMT), Macy's (M), and Kohl's (KSS) are continuing to face challenges from online retailers like Amazon (AMZN) as more and more customers are moving to online stores. The SPDR S&P Retail ETF (XRT) has returned -10.8% this year, while the Amplify Online Retail ETF (IBUY) has returned 31.9% this year, showing the difference in investor preferences in recent months.
Chain stores will remain supportive in June
Though retail sales have witnessed some volatility in recent months, the trend has remained positive since September 2016 when retail sales started to improve. We can expect this trend to continue in the near term and June retail sales from GM & Clothing are likely to be positive, backed by weekly gains in the previous month.
In the next part of this series, we'll analyze how sales in gasoline service stations have been impacted by falling crude oil prices.