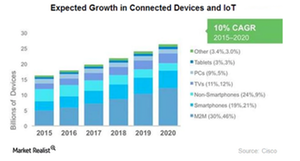 What Does DISH Network Intend to Do with Its Spectrum?
By Shirley Pelts

Updated
Internet of Things
Considering DISH Network's (DISH) focus on the Internet of Things (or IoT), the company believes that changes in net neutrality regulations could force companies such as Facebook (FB) to focus on the IoT and connectivity.
Other companies such as Cisco (CSCO), IBM (IBM), Microsoft (MSFT), and Salesforce (CRM) are also pursuing growth in the IoT space through acquisition strategies and partnerships. In the IT (information technology) space, IoT and AI (artificial intelligence) are expected to drive expenditure of $13 trillion in the next computing cycle.
However, it expects that the IoT business will only take off by 2021 or 2022.
Article continues below advertisement
5G technology
Besides telecommunications companies such as Verizon Communications (VZ) and AT&T (T), DISH Network (DISH) and Comcast (CMCSA) are also pursuing 5G (fifth-generation) technology. While telecommunications companies such as Verizon and AT&T are looking at millimeter blocks of the 5G spectrum, DISH is focusing on the low and mid-bands of the spectrum.
DISH expects that the cost of building out a 5G network will be lower than the cost of building out a 4G (fourth-generation) network. DISH expects that it will get more coverage from a single tower site, resulting in its requiring fewer tower sites for its 5G network.
DISH also wants its 5G network to be an IP-based (internet protocol) network, which would further save on costs. The company is also focusing on the low and mid-bands of the 5G spectrum because it believes that the 5G technologies in these bands have better propagations.