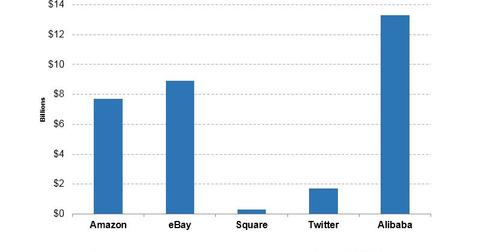 What Does Amazon's Debt Valuation Convey?
By Ruchi Gupta

Jul. 7 2017, Updated 6:37 a.m. ET
A look at Amazon's debt position
Amazon's (AMZN) balance sheet reflects total debt of $7.7 billion. The company has reported total capital of ~$29.4 billion. If we work out its total debt-to-total capital ratio, we'll arrive at 26%.
Peer companies eBay (EBAY), Square (SQ), Twitter (TWTR), and Alibaba (BABA) have total debts of ~$8.9 billion, ~$0.3 billion, ~$1.7 billion, and ~$13.3 billion, respectively.
Amazon's debt-to-assets, debt-to-equity, and debt-to-EBITDA (earnings before interest, tax, depreciation, and amortization) ratios work out to 0.09x, 35.48x, and 0.60x, respectively. Delving deeper into the company's debt ratios, we can see that it has an EBIT-to-interest ratio of 32.62x, which provides a clue on its ability to pay interest on its outstanding debt.
The company has a debt-to-enterprise value of 2%.
Article continues below advertisement
How much profit per share is Amazon wringing from its sales?
Amazon posted EPS (earnings per share) of $5 in 2016. Its EPS came on sales of ~$142.6 billion, which reflected a rise of 26% annually. In the current year, its sales are expected to rise to ~$166.1 billion, out of which EPS of $6.68 are expected.
Eye on Amazon's price multiple
Alphabet's book value per share works out to $46, while its estimated book value per share is $53.9. The stock is trading at a price-to-book value of 21.4x.
The company's current price-to-sales ratio is 3.3x, and its estimated price-to-sales ratio is 2.8x.
Amazon's scale
On June 30, Amazon was the largest Internet player in the world in terms of market cap at ~$458.9 billion. In comparison, Alibaba's market cap was ~$361.1 billion, eBay's was ~$38.2 billion, Square's was ~$8.8 billion, and Twitter's was ~$13.2 billion.