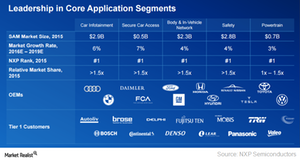 What Challenges Does Qualcomm Face in Acquiring NXP?
By Puja Tayal

Updated
A new hope for Qualcomm
Qualcomm's (QCOM) licensing business is undergoing legal turmoil, and this has created the need for it to diversify away from mobile more quickly.
These legal battles and the slowing Smartphone market have made Qualcomm's acquisition of NXP Semiconductors (NXPI) necessary to boosting its growth in the automotive and IoT (Internet of Things) spaces.
NXP is a leader in drivetrain, comfort and convenience, safety, and microcontrollers, whereas Qualcomm has a larger share in connected telematics, WiFi, and car infotainment. NXP also facilitates the digital economy by providing secure payment identification technologies. Moreover, NXP has the largest channel of over 30,000 customers. The combination of the two companies would create the largest semiconductor company for automotive and IoT technologies.
The acquisition would add $9 billion to Qualcomm's annual revenue. This amount would more than offset any negative impact from the litigations against Qualcomm's licensing model.
Article continues below advertisement
Would Qualcomm have to pay more than $110 per NXP share?
Since October 2016, when the Qualcomm-NXP acquisition was announced, semiconductor stocks (SMH) have risen 30%–40%, and the acquisition has become even more lucrative for Qualcomm. Hence, investors are looking for a higher price than the $110 offered under the original acquisition deal.
Qualcomm needs to tender 80% of NXP's shares to close the deal. However, the percentage of shares being tendered is falling every month. In the March 2017 offer, Qualcomm tendered 17.2% of NXP's total shares, which fell to 14.9% in May and 12.5% in June. Activist investor Elliott Management is pushing for a better deal for NXP.
Analysts believe that Qualcomm will benefit even if it boosts its offer price to $125 per NXP share.
Regulatory approvals
Apart from these tender troubles, Qualcomm is facing delays in regulatory approvals. The company has secured approvals from the United States, Mexico, Russia, and Taiwan, and it's currently seeking approval from five more, namely Europe (IEV), China, Japan, South Korea, and the Philippines.
European authorities have decided to look closely at the deal. They have the following concerns:
The combined company would have a dominant share in the closely related markets of wireless baseband chips and NFC (near-field communication) controllers. It could easily bundle these offerings at cheap prices to remove competition.
The combined company would have a dominant share in the high-growth markets of automotive computing and vehicle-to-everything networking.
Qualcomm has a history of misusing its standard essential intellectual property (or IP) to earn higher licensing fees. If it gets access to NXP's rich IP portfolio, it could adopt similar unfair practices in the automotive space.
Despite these challenges, Qualcomm expects to secure the necessary regulatory approvals and close the deal by the end of 2017. Next, let's see how the lawsuits and the NXP acquisition could affect Qualcomm's earnings.