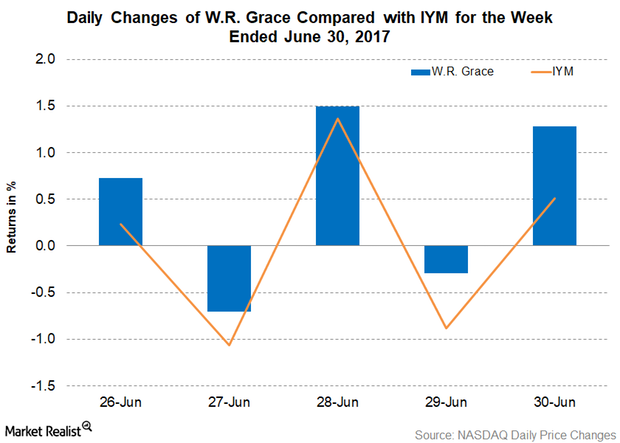 W.R. Grace Enters New Agreement with Valliscor
W.R. Grace signs new agreement
On June 26, 2017, W.R. Grace (GRA) announced that it entered a master service agreement with Valliscor to supply fluorinated intermediates. Fluorinated intermediates cater to various industries like pharmaceuticals, electronics, and specialty chemicals. However, the company didn't disclose the financial details of this agreement. This deal could have a positive impact on Grace's revenue beginning in 3Q17.
Article continues below advertisement
Brett Reynolds, Grace's global business director of fine chemicals, said, "This agreement will allow Grace to expand our advanced intermediates business for active pharmaceutical ingredient (or API) manufacturers and enable Valliscor to broaden its market for fluoroalkylation technology." This agreement shows Grace's growing strength in the pharmaceutical segment.
Grace's stock performance
Grace stock rose 2.5% for the week ended June 30, 2017. As a result of these gains, GRA stock traded 2.7% above the 100-day moving average price of $70.09. On a year-to-date basis, the stock has risen 7.1%. Analysts see some more upside prevailing in this stock and have recommended a target price of $82.25 over the next 12 months, which implies a 12-month potential return of 14.2% from the closing price of $72.01 as of June 30, 2017.
GRA's 14-day RSI (or relative strength index) of 59 indicates that the stock is neither overbought nor oversold. GRA's 52-week low is $63.37, while its 52-week high is $80.56.
Investors can indirectly invest in GRA by investing in the iShares U.S. Basic Materials ETF (IYM), which invests 0.80% of its portfolio in GRA. The top holdings of the fund include Dow Chemical (DOW), DuPont (DD), and Monsanto (MON), which have weights of 11.8%, 11.6%, and 8.7%, respectively, as of June 30, 2017.