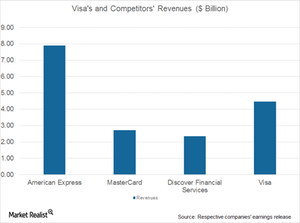 Visa Expands Its Footprint in Europe
Targeting Europe
Visa (V) will report its fiscal 3Q17 earnings on July 20, 2017. Wall Street analysts expect Visa to report EPS (earnings per share) of $0.81 per share—a decline of 5.8%. Visa had a strong performance in fiscal 2Q17 due to delays in client incentives. In June 2017, Visa decided to make an investment in an online payment giant in Europe—Klarna. Visa and Klarna took this step in order to enhance customers' experience across Europe.
Article continues below advertisement
In May 2017, Visa announced that in order to give consumers more control and make transactions transparent, the company will create digital card management experiences for its partners. Visa's partners include financial institutions. Visa's new offerings will complement its existing offerings. The new offerings will be made available to cardholders through mobile banking channels. Since the new offerings will lead to more transparency, Visa expects to see volume growth in fiscal 3Q17. Market analysts expect Visa to report revenues of $4.36 billion in fiscal 3Q17—a decline of 2.7%. Strong revenues in fiscal 2Q17 were the result of digitization. Visa Checkout had been adopted by a number of merchants including Marriott (MAR) and Alaska Airlines.
More renewals ahead
After a number of renewals were completed in fiscal 2Q17, Visa will make more renewals in fiscal 3Q17. The company is expected to witness higher incentives in fiscal 3Q17—compared to renewals in fiscal 2Q17. In fiscal 3Q17, Visa is expected to make renewals in the US. Although Visa reported revenues of $4.47 billion in fiscal 2Q17, other consumer financial peers (XLF) reported the following revenues as of March 31, 2017: