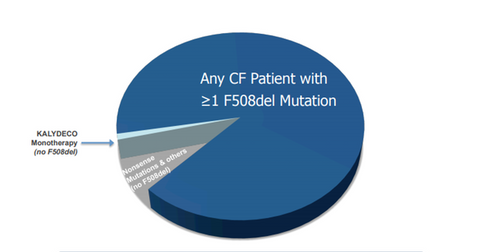 Vertex Pharmaceuticals' Focus on Innovative Combination Regimens
By Margaret Patrick

Updated
Double combination regimen
On March 28, 2017, Vertex Pharmaceutical (VRTX) released data from a phase 3 trial, EVOLVE. It showed that an investigational combination regimen of tezacaftor and ivacaftor managed to improve lung function, as measured by the percentage of predicted forced expiratory volume in one second (or ppFEV1), by an average 4.0 percentage points after 24 weeks of therapy. On the other hand, Orkambi demonstrated an average 2.8 percentage point improvement in ppFEV1 over 24 weeks. Both the drugs were tested on cystic fibrosis (or CF) patients with two copies of the F508del mutation.
Article continues below advertisement
While the new therapy may be a small improvement in efficacy over Orkambi, it demonstrated significant superiority in terms of its safety profile. Vertex Pharmaceuticals didn't witness any signs of bronchoconstriction or other adverse side-effects related to breathing or chest tightness in tested patients. The company also witnessed minimal side-effects in alanine aminotransferase tests (or ALT) and liver function tests (or LFT) for enrolled patients. These results could become a major differentiator when considering the tezacaftor and ivacaftor combination regimen for chronic disease management.
With its robust research pipeline, Vertex Pharmaceuticals poses tough competition to existing and upcoming CF players Roche Holdings (RHHBY), Novartis (NVS), and Pfizer (PFE).
Triple combination regimens
Vertex Pharmaceuticals expects that these triple-combination regimens, comprising next-generation correctors with tezacaftor and ivacaftor, will allow the company to target 90% of the CF patients who have at least one F508del mutation.
Data from a phase 2 trial released by the company on July 18, 2017, demonstrated an improvement in ppFEV1 of 9.7 percentage points when CF patients with one F508del mutation and one F508del/Min mutation were treated with this triple -combination regimen of corrector VX-152 with tezacaftor and ivacaftor. The company also reported data from another phase 2 trial. It demonstrated a 12.0 percentage point improvement in ppFEV1 in a similar patient population when treated with corrector VX-440 in combination with tezacaftor and ivacaftor. Further, phase 1 data evaluating the efficacy of the triple-combination regimen, VX-659, tezacaftor, and ivacaftor, in a similar patient population also shows a mean absolute improvement of 9.6 percentage points.
Vertex Pharmaceutical aims to initiate phase 3 trials for the best of the three triple-combination regimens, based on overall efficacy and safety. If it's successful in its research efforts, this triple-regimen is expected to increase the addressable market size for Vertex Pharmaceuticals by around 20,000 patients. This move could boost the company's stock price as well as the Vanguard Total Stock Market ETF (VTI). Vertex Pharmaceutical makes up about 0.22% of VTI's total portfolio holdings.