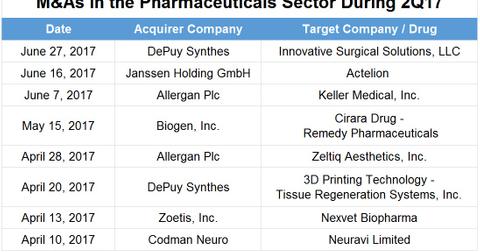 US Pharmaceuticals: Mergers and Acquisitions in 2Q17
By Mike Benson

Jul. 10 2017, Updated 1:04 p.m. ET
US pharmaceuticals
The US pharmaceutical sector comprises different setups pertaining to the development, manufacturing, production, and marketing of drugs. These setups consist of drug manufacturers, drug marketers, and biotechnology companies.
Article continues below advertisement
Mergers and acquisitions in 2Q17
There were several mergers and acquisitions in the US pharmaceuticals space in 2Q17.
On June 27, 2017, DePuy Synthes, a Johnson & Johnson (JNJ) medical device company, announced the acquisition of Sentio, a privately held company based in Michigan. The company markets innovative nerve localization technology for spinal surgery.
On June 16, 2017, Janssen Holding, a Swiss subsidiary of Johnson & Johnson (JNJ), announced the completion of the acquisition of Actelion, a biopharmaceutical company. The deal was worth ~$30 billion.
On June 7, 2017, Allergan (AGN) announced the acquisition of Keller Medical, a privately held medical device company. It developed the Keller Funnel, a cone-shaped, lubricated plastic funnel used for breast augmentation or reconstruction.
On May 15, 2017, Biogen (BIIB) acquired Remedy Pharmaceuticals' Cirara, a phase-III drug developed for the treatment of large hemisphere infarction. The drug Cirara has been granted orphan drug designation for severe cerebral edema, and fast track designation by the FDA.
On April 28, 2017, Allergan completed the acquisition of Zeltiq Aesthetics for ~$2.4 billion. Zeltiq, a medical technology company, developed CoolSculpting, a proprietary controlled-cooling fat reducing treatment.
On April 20, 2017, DePuy Synthes acquired 3-D printing technology from Tissue Regeneration Systems. The technology helps create customized bioresorbable implants with a unique coating to support healing of bones in orthopedic and craniomaxillofacial deformities.
On April 13, 2017, Zoetis (ZTS) announced the acquisition of Nexvet Biopharma, a therapeutic veterinary biologics company and an innovator of monoclonal antibody therapies for companion animals, for ~$85 million.
On April 10, 2017, Codman Neuro, a subsidiary of Johnson & Johnson (JNJ), announced the acquisition of Neuravi, a privately held Irish company, for its advanced neurovascular therapies and innovations in acute ischemic stroke therapy.
To divest risk, investors could consider funds such as the Health Care Select Sector SPDR ETF (XLV), which invests in different pharmaceutical companies.