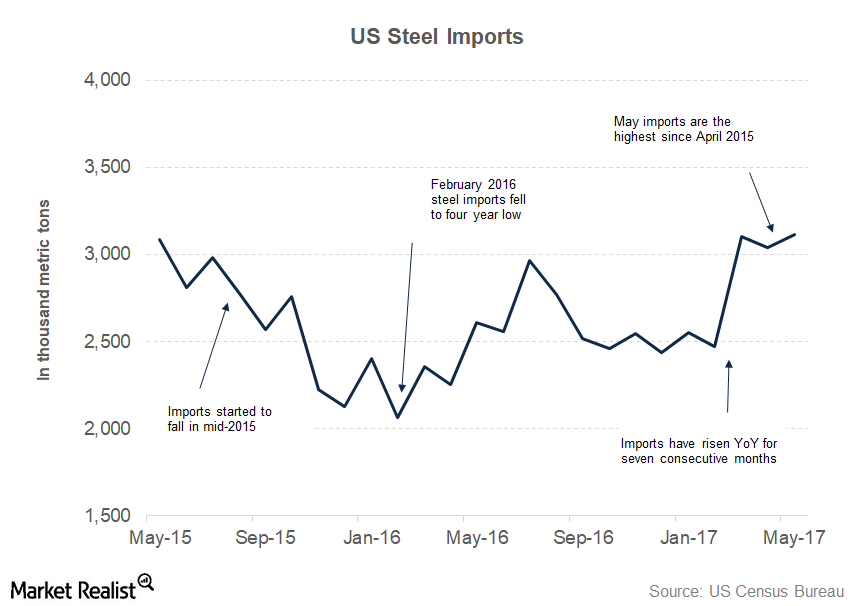 Why the US Needs to Protect Its Steel Industry
By Mohit Oberoi, CFA

Jul. 10 2017, Published 12:05 p.m. ET
Steel industry
The US steel industry has seen turbulent times over the last ten years. In 2009, US steelmakers had losses amid the global financial crisis. Some steelmakers, particularly U.S. Steel Corporation (X), posted losses amid falling steel prices in 2015.
Steel buyers who look overseas for their needs could be compared to a retail buyer who compares products on Amazon (AMZN) and at Walmart (WMT) before making a purchase decision. It's a rational economic decision to opt for the seller with the best price.
Article continues below advertisement
US manufacturing
However, steel is different from retail. If you choose to buy a product from Amazon instead of Walmart, the US manufacturing sector isn't impacted—assuming the product is made in the US. Notably, the price differential is the key driver of global trade. So, countries export or import products based on their comparative advantage. For years, China used its low-cost labor advantage to turn into a manufacturing powerhouse.
The market gets distorted when the competitive advantage is due to some unfair business practice. Steelmakers like AK Steel (AKS) allege that Chinese steel is cheaper due to subsidies offered by the government. Steelmakers claim that US steelmakers can compete with China on a level playing field. There are also allegations of Chinese currency manipulation.
Protection
The US steel industry should have some sort of safeguards in place. US steelmakers (MT) have used trade laws successfully. However, a blanket import tax, including companies in the developed world that don't get much government support, might not be the best solution.
So, what's the answer to the steel industry's woes? We'll discuss this in detail in the next part.