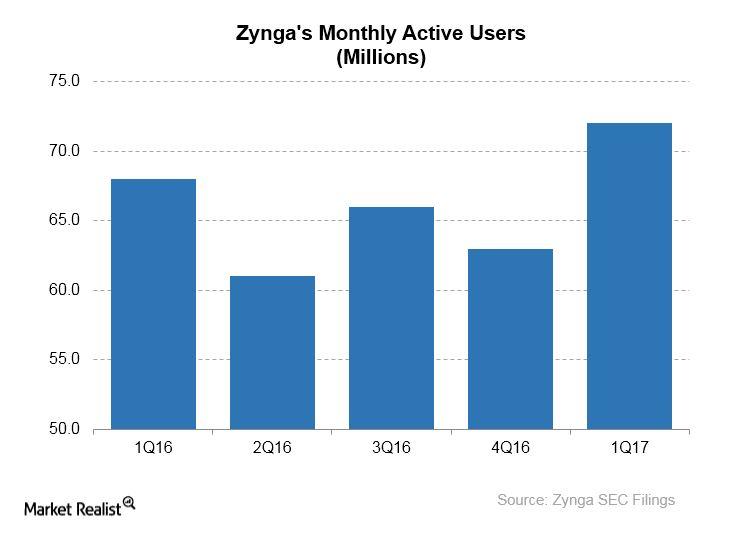 Understanding Zynga's Strategy Shift
By Neha Gupta

Jul. 24 2017, Published 1:51 p.m. ET
Creating new games isn't enough
Zynga (ZNGA) brought in executives who previously worked for its rival, Electronic Arts (EA), to try to turn around its fortunes. These executives include CEO Frank Gibeau and CFO James Gerard Griffin.
Speaking early this month at a technology, media, and telecom industry conference organized by Cowen, Griffin discussed how they're changing Zynga's business approach and why the shift is important.
According to Griffin, what was ailing Zynga was the company's excessive focus on creating new games while doing little to improve engagement with existing players. This was the same mistake that Electronic Arts used to make.
Article continues below advertisement
Stronger relationship reduces churn
Griffin argued that if the relationship with players is weak, there's heightened risk of player churn, which leads to a cycle where a company spends money to acquire players, loses them again, and then spends more money to bring them back.
In contrast, if the relationship is strong, Griffin said, churn is minimized, which improves monetization.
So Zynga's management is keen to foster deeper engagement with existing players. Zynga concluded 1Q17 with 72.0 million monthly active users. The above chart shows the trend-line for Zynga's monthly user base.
Zynga won't forsake portfolio development
Griffin said that building stronger relationships with players doesn't mean Zynga will forsake its portfolio. He noted that, for Zynga to flourish in live services—a potentially lucrative segment for the company—it will continue to invest in new games.
Zynga is vying for the attention of players against the likes of Electronic Arts, Activision Blizzard (ATVI), Glu Mobile (GLUU), and Take Two Interactive (TTWO).