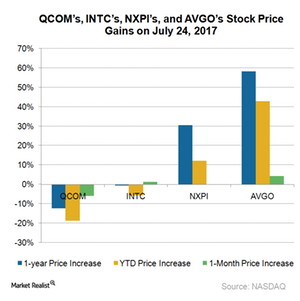 What Triggered the Downtrend in Qualcomm Stock?
Qualcomm stock falls, semiconductor stocks rise
Qualcomm (QCOM) is in a strong growth market, but legal headwinds are clouding its short-term growth. Qualcomm's stock price has fallen 12.4% in the last 12 months, underperforming the S&P 500 Index (SPY), which has risen 14% during the same timeframe.
The stock has also underperformed its peers NXP Semiconductors (NXPI) and Broadcom (AVGO), which have risen 30.5% and 58%, respectively.
Qualcomm stock has been in a down cycle before. After reaching a peak of $82 in April 2014, the stock started to fall, and it halved to $42 in February 2016 due to antitrust issues in China.
The stock once again gained momentum in 2016, and it peaked around $71 in December 2016 driven by strong growth momentum in China and demand for the Snapdragon 820.
Even though the overall semiconductor market environment is strong, Qualcomm is facing another downturn due to legal headwinds.
Article continues below advertisement
Qualcomm's stock price movement in 2017
Apple (AAPL) filed a lawsuit against Qualcomm in January 2017 that saw Qualcomm stock fall from over $65 to ~$50. Since the start of 2017, the stock has fallen 18.6%, and it's currently trading at ~$53, which is at the lower end of its 52-week range of $51.05–$71.62. The stock's weakness has continued due to revenue uncertainty arising from litigations from regulators, customers, and competitors.
On the other hand, NXPI and AVGO have risen 12% and 43%, respectively, year-to-date (or YTD). Intel (INTC) stock has fallen 5% YTD due to rising competition from Advanced Micro Devices (AMD) and NVIDIA (NVDA).
In the last month, Qualcomm's stock price has fallen 5.9%, whereas INTC's and AVGO's stock prices have risen 1.3% and 4.0%, respectively.
Qualcomm's volatility
If we look at Qualcomm's stock price movements over the last 12 months, we can see that the stock has been volatile. It has a beta of 1.53, which is higher than NXPI's and INTC's betas of 0.15 and 1.48, respectively, but lower than AVGO's beta of 1.96. Beta is a measure of volatility where less than 1 is less volatile and more than 1 is more volatile.
Though Qualcomm's stock price has fallen over the past few months, its stock still has a strong dividend history. The stock has an annualized dividend of $2.28 per share. It also has multiyear growth potential, as it will invest in adjacent markets via its NXP acquisition.
Next, we'll look at Qualcomm's stock price momentum on a technical level to understand what direction the stock could take in the short term.