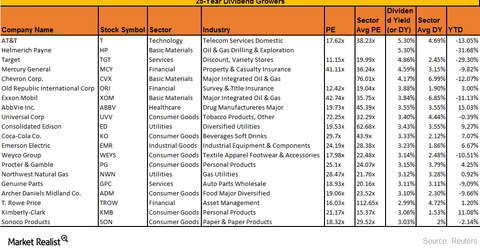 A Look a the Top Twenty Dividend Growers over the Last 25 Years
By Amanda Lawrence

Updated
The top twenty dividend growers
Of the top twenty 25-year dividend growers, consumer goods companies form 35%, basic materials and financials form 15% each, services and utilities form 10% each, and technology, healthcare and industrial goods form 5% each. The S&P 500 (SPY) (SPX), which has a PE (price-to-earnings) ratio of 21.4x has a dividend yield of 2.4% and is up 8.3% year-to-date (or YTD). This series will discuss how these stocks have been able to achieve continuous dividend growth.
Article continues below advertisement
As shown in the table above, basic materials, technology, and financial stocks have recorded negative dividend growth on a YoY (year-over-year) basis. Capital goods, consumer discretionary, and conglomerates placed in the middle for growth, and healthcare, retail, services, and energy have been the top dividend growers on a YoY basis.
Energy has been the worst performing sector this year so far, trailing the market by a wide margin. Healthcare, technology, industrials and consumer discretionary have been the top performers YTD (year-to-date). Interestingly, the worst-performing sector has seen some of the best EPS (earnings per share) growth this year—likely because last year was so bad. Let's look at some select stocks and sectors.
Energy: Helmerich & Payne
Helmerich & Payne (HP), an oil well driller, has seen a declining trend in its revenue since 2015—2016 was the worst, with revenue falling 49%. The oil and gas drilling and exploration equipment provider thrives on rising production. Currently, oversupply is creating an in the Energy Sector. Rising output of the US shale industry is negating the effect of the OPEC (Organization of the Petroleum Exporting Countries) supply and resulting in lower oil prices, which is impacting Helmerich & Payne. Rising operating costs and expenses led to negative operating income and EPS in 2016 and 1H17. The company couldn't generate enough free cash flow to pay off its dividends in 1H17, unlike fiscal 2016. The stock price has fallen ~32% YTD.
The company's low debt-equity ratio and strong cash position compared with peers will give investors reason to consider it as an investment. Its dividend yield of 5.3% higher than the sector average of 1.4%, and it recorded a dividend payout ratio of 49.1% in fiscal 2015. However, the instability in oil and gas prices will continue to remain a concern.
The Vanguard Dividend Appreciation ETF (VIG) offers an annual dividend yield of 2.1% at a PE (price-to-earnings) ratio of 23x, while largely avoiding the energy sector. The Vanguard High Dividend Yield ETF (VYM), which offers an annual dividend of 3% at a PE ratio of 21.9x, allocates 8% of its assets to oil and gas.