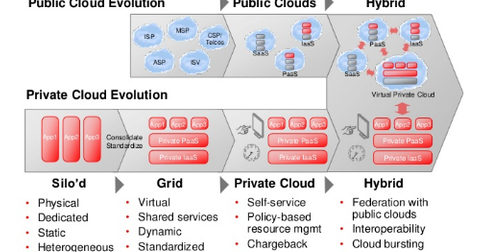 The Significance of the Oracle–AT&T Agreement
By Anne Shields

Updated
Oracle–AT&T agreement
Earlier in this series, we looked at the factors that could contribute to the growth of DBaaS in the near future. We also learned that despite the trend toward database migration, the corporate data center is likely to continue for a while.
Oracle's (ORCL) recent strategic agreement with AT&T (T) reflects this trend. Oracle highlighted this agreement, which it entered last month, and noted, "AT&T has over 10,000 Oracle databases." AT&T has agreed to transfer its large-scale internal databases to Oracle's Cloud IaaS and PaaS. In return, AT&T would get global access to Oracle's cloud portfolio offerings.
Article continues below advertisement
Inside the AT&T agreement
This deal emphasizes Oracle's aim to bridge the gap between the hybrid and public cloud by running its offerings and services in a client's data center.
This deal can be viewed as a harbinger of more databases making a transition toward the PaaS model. This transition would work in favor of Oracle, as its PaaS business is still finding its footing in the cloud space.
Highlighting this deal's importance, Oracle noted, "It provided no revenue at all in Q4, it's a very strategic win as a reference to all of our customers about the modernization of databases and the movement of them to the cloud." Oracle further shared that similar deals/arrangements are in the offing.
Larry Ellison, Oracle's chief technology officer, said, "During this new fiscal year, we expect both our PaaS and IaaS businesses to accelerate into hyper-growth, the same kind of growth we're seeing with SaaS, as our customers begin to migrate their millions of Oracle databases to Generation2 of the Oracle Public Cloud."