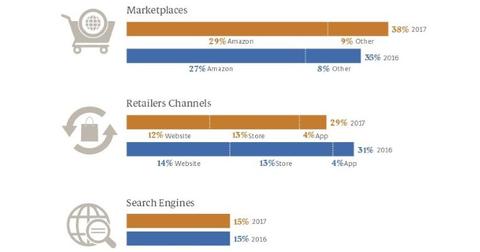 The Rise of Amazon in Product Searches
By Neha Gupta

Updated
Marketplaces claim lion's share of product searches
Amazon's (AMZN) marketplace is the preferred destination for most online shoppers. According to a recent survey published by United Parcel Service (UPS), the majority of Americans looking to purchase products online start their research at marketplaces such as Amazon and eBay (EBAY).
The survey, which captured the views of more than 5,000 shoppers, showed that marketplaces account for 38.0% of online product searches by American consumers. That's up 3.0% from last year, when a similar survey showed 35.0% of consumers started their product search at marketplaces.
Amazon claims the lion's share of marketplace product searches. Of the 38.0% of product searches taking place at marketplaces, Amazon contributed 29.0%, and other marketplaces such as eBay and Groupon (GRPN) contributed the remaining 9.0%.
Article continues below advertisement
Shoppers bypassing search engines in product search
The survey also showed how American consumers are bypassing Internet search engines in their product searches. Online product searches on search engines such as Alphabet's (GOOGL) Google and Microsoft's (MSFT) Bing remained flat from last year at 15.0%, as shown in the above chart.
Factors driving shoppers to marketplaces
It appears Amazon's strength in marketplace product searches is linked to the broad product selection on its site. Hundreds of millions of products are sold on Amazon.com. When asked about the important factors they consider when searching for and selecting products online, 77% of respondents in the survey cited product selection and 75% cited detailed product information.