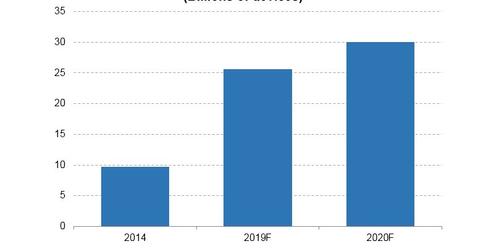 The Reason for Nokia's $350 Million Internet of Things Fund
By Ruchi Gupta

Updated
Preference for network IoT projects
Earlier in 2017, Nokia (NOK) announced that it had earmarked $350 million for investment in startups focused on IoT (Internet of Things) technology. The fund would be managed by the company's venture arm known as Nokia Growth Partners (or NGP).
The investment would benefit startups working on IoT networks. As for the IoT fields targeted, Nokia's fund would go to startups working on projects around connected enterprises, connected cars, digital health, and big data and analytics.
Through its dedicated IoT fund, NGP is keen to back startups that already generate revenue and intend to expand globally.
Article continues below advertisement
IoT makes plenty of sense for Nokia
Because it's a vendor of network systems and services, Nokia sees a growth opportunity in the IoT industry. IoT technology is shaping up to be an enormous market for network and device vendors. According to research company International Data Corporation, IoT's installed base will grow to 30.0 million by 2020, compared to 9.7 million in 2014.
In terms of dollar value, the enterprise IoT market will be worth $195.5 billion by 2022, up from an estimated $113.7 billion in 2015, according to research company MarketsandMarkets.
Accelerating IoT industry growth
By supporting startups focused on the IoT space, Nokia hopes to accelerate the growth of the industry as it positions itself for the opportunity to sell network systems for IoT infrastructure. Other network vendors such as Cisco (CSCO) and Ericsson (ERIC) are also eyeing the billions of dollars in the IoT market.
The IoT space is also appealing to network operators such as Verizon (VZ) and AT&T (T), which is part of the reason they've been investing billions of dollars in upgrading their networks recently.