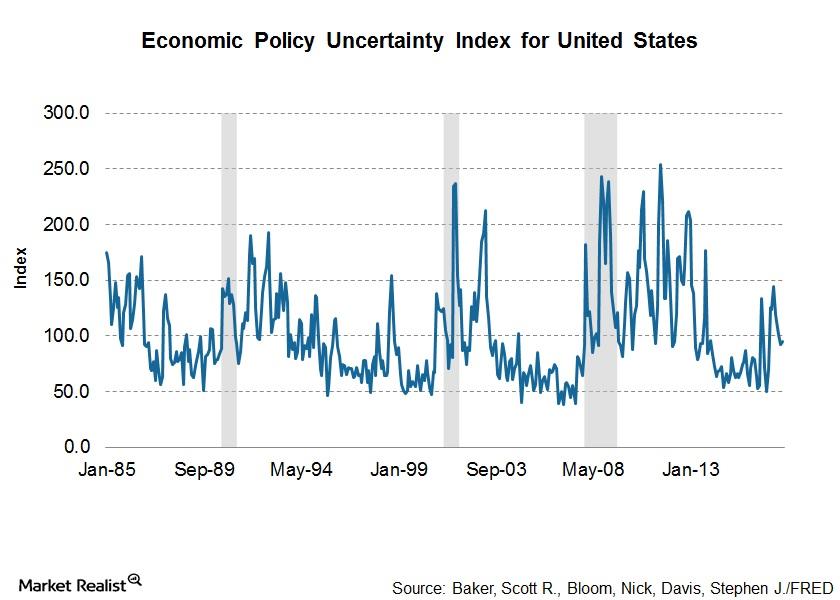 The Fed Sees These as Vulnerabilities in the Market
By Ricky Cove

Jul. 18 2017, Updated 7:38 a.m. ET
Yellen and the Fed's outlook on financial stability
In her most recent testimony to US Congress, US Federal Reserve Chair Janet Yellen discussed some vulnerabilities in US markets (ITOT), noting that they were moderate. The financial outlook remained upbeat, with Yellen pointing out the availability of substantial amounts of capital and liquidity in the banking system (XLF).
Yellen also mentioned the increased valuation pressure across asset classes and the increasing investor risk appetite.
Article continues below advertisement
As for international markets (VTI), Yellen highlighted the slowdown in global productivity, the reduction in liquidity in the corporate bond market (LQD), and volatile monetary policies in central banks like the Bank of England and the European Central Bank. Yellen's testimony suggested that international financial market conditions have improved on positive economic performances in the macroenvironment as well as in the corporate sector.
Vulnerabilities to markets
In the question-and-answer part of her testimony, Yellen discussed uncertainties that markets are facing. The primary area of concern for the Fed is still inflation, and Yellen highlighted the uncertainty surrounding how inflation (TIP) could respond to tightening monetary policies.
Yellen also pointed to possible changes in US fiscal and other government policies that are still uncertain.
At the end of her statement on vulnerabilities in markets (BND), Yellen stated that she sees equal odds for the US economy to overshoot or undershoot the Fed's projections.
In the next part, we'll analyze the bond market reaction to Yellen's testimony to Congress.