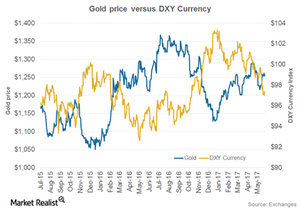 The Dollar and Precious Metals on Friday, July 7
By Meera Shawn

Jul. 11 2017, Published 9:43 a.m. ET
Greenback-based assets
Precious metals saw a down day on Friday, July 7, 2017, as the US dollar scaled higher after the better-than-expected economic numbers. The U.S. Dollar Index (or DXY), which measures the dollar against a basket of six major world currencies, rose 0.22% on Friday alone. It has a trailing five-day rise of 0.40%.
Precious metals and the US dollar are inverted since the metals are dollar-denominated assets. These greenback-based assets are negatively impacted by the rise in the dollar since investors of other countries don't want to buy the dollar and dollar-based assets at a higher rate, and thus demand may slow down.
Gold, silver, platinum, and palladium fell 1.1%, 3.5%, 0.60%, and 0.11%, respectively, on Friday, July 7.
Another crucial element that continues to play on precious metals is the US interest rate. In the next part of this series, we'll focus on how the interest rate plays on precious metals, especially gold.
Article continues below advertisement
Negative correlation
The correlation numbers between gold (GLD) and the US dollar (UUP) are not very high, despite the much-spoken-of relationship between the two.
The correlation between gold and the US dollar is -0.21% on a year-to-date basis. That suggests that about 21.0% of the time, an increase in the US dollar will lead to a fall in gold, and a fall in the US dollar will result in a rise in gold.
Precious metal mining stocks also fell. Goldcorp (GG), B2Gold (BTG), Alamos Gold (AGI), and Sibanye Gold (SBGL) fell 2.2%, 3.7%, 0.90%, and 3.0%, respectively, on Friday.