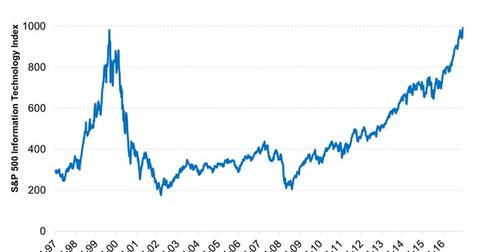 The $3 Trillion Question: Can the Tech Rally Continue?
By Sanmit Amin

Updated
Tech sector at an all-time high
The S&P 500 Information Technology Index broke a 17-year-old record on Wednesday, July 19. The index ended the day at 992.3, which is slightly above its previous all-time high of 988.5, which was made in March 2000 in the midst of the dot-com bubble, which saw tech stocks trade at ludicrous valuations.
The tech sector (IYW) has been a market darling this year, easily outperforming other sectors. The sector has risen 24% YTD compared to the S&P 500's 9% gain. The sector's ability to achieve high earnings growth despite tepid economic growth has attracted investors.
Article continues below advertisement
The five biggest tech stocks, Apple (AAPL), Alphabet (GOOG), Microsoft (MSFT), Facebook (FB), and Amazon (AMZN) now have a market capitalization of a whopping ~$3 trillion. Back in March 2014, these five companies had a cumulative market capitalization of ~$1.5 trillion. Currently, Apple and Google alone have an aggregate market capitalization of ~$1.5 trillion.
Tech sector valuations not as rich as those during the tech bubble in 2000
These stocks have been the main reason behind the surge in the tech sector. Most of these stocks have been up by over 30% year-to-date. Google and Microsoft have seen a surge of 25% and 18%, respectively, this year.
While the sector isn't cheap on a price-to-earnings basis, this doesn't seem like a bubble. At the peak of the tech bubble, the sector was trading at over 74x trailing-12-month (or TTM) earnings. Amazon is currently trading at ridiculously lofty valuations of ~195x TTM earnings.
Currently, the sector is trading at slightly over 23x earnings. However, earnings need to keep growing for this rally to be sustainable. Tech stocks fell in June as investors were worried about the sector's valuations. However, the sector bounced right back in July.