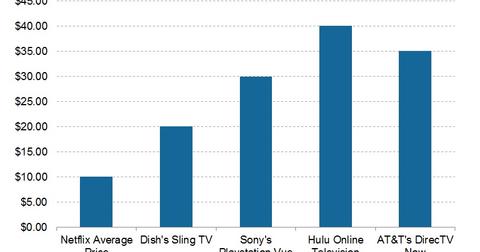 Taking a Look at Netflix's Pricing Strategy
By Shirley Pelts

Updated
Netflix's pricing plans
Analysts have long speculated that it would be better over the long term for Netflix (NFLX) to raise prices. Currently, in the United States (SPY), Netflix offers three price tiers with its "basic" plan priced at $7.99 per month while its "standard" and "premium" plans are priced at $9.99 and $11.99 each month, respectively. The company was asked during its fiscal 2Q17 earnings call whether it planned to raise the price of its "premium" plan or introduce new price tiers.
Article continues below advertisement
Netflix stated that, currently, it's observing that more subscribers are opting for the "premium" price plan. As a result, the company doesn't see the need to increase its prices or introduce new price tiers. Over the long term, Netflix sees its ASP (average selling price) growing in the mid-single digits.
Netflix's international pricing strategy
In international territories, Netflix has kept its pricing closer to its prices in the United States with plans priced between $6 and $19 per month. The company had stated during an earlier earnings call that it had no intention to increase its prices further in international territories but was focusing on offering subscribers more content and value for the price of their subscription.
However, in some international markets, in the case of changes to a country's VAT (value-added tax) or GST (goods and services tax), Netflix may be forced to increase its prices and pass on the change in tax to subscribers.
The company is also making an effort to attract price-conscious viewers in markets like Asia. In such markets, the company is offering a high-value service at a ~$10 price point.