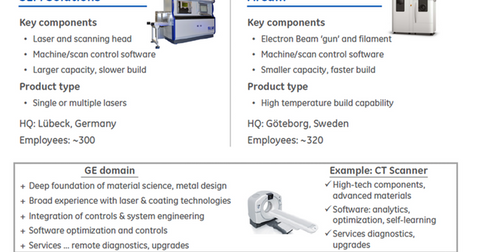 Stryker's Partnership with GE: Growth in Additive Manufacturing
By Sarah Collins

Updated
Stryker's focus on additive manufacturing
In June 2017, Stryker (SYK) entered into a partnership with General Electric (GE) to expand its additive manufacturing business. Additive manufacturing is 3D printing technology that involves the use of 3D design data to build a component depositing material layer by layer. The deal is Stryker's recent move towards accelerating its 3D printed products portfolio. The company started investing in additive manufacturing in 2001 and has been expanding its 3D business since then. Stryker has invested in Concept Laser and Arcam machines already. For 3D printing industrialization for the healthcare industry, Stryker has entered into a number of collaborations with some leading universities in the United Kingdom and Ireland. Recently, the company opened an additive manufacturing facility in Ireland.
Article continues below advertisement
GE additive and partnership advantages
General Electric is a leading company in the additive manufacturing space. It has invested ~$1.4 billion in Concept Laser and Arcam and ~$1.5 billion in additive manufacturing technologies over the last decade. General Electric established GE Additive, a supplier of additive material, technology, and services, in 2016. Read Why Is General Electric Focused on Additive Manufacturing? to learn more.
Stryker's 3D printed triathlon tritanium knee system and other hip and knee products are well-established products in the market. They're driving the sales growth of the company's orthopedics business. In 1Q17, Stryker's orthopedics business reported 7.2% growth.
John Haller, Vice President of Global Supply at Stryker, said, "Working with GE Additive and leveraging their expertise is a very compelling proposition for Stryker. We believe this collaboration will accelerate our additive manufacturing journey and support our mission to make healthcare better."
Johnson & Johnson (JNJ) and Zimmer Biomet Holdings (ZBH) are two of the other players with a presence in the 3D printing market in the healthcare space. Investors can take exposure to Stryker to participate in the company's growth driven by its innovative and disruptive new technologies by investing in the iShares Core S&P 500 ETF (IVV). IVV holds ~0.21% of its total holdings in Stryker.
In the next part, we'll look at Stryker's recent stock performance.