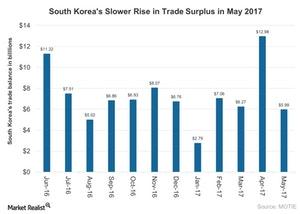 Slower Rise in Trade Surplus for South Korea in May 2017
By Mary Sadler

Updated
Export-reliant economy of South Korea
South Korea's trade surplus saw a large drop to $6.0 billion in May 2017 as compared to $13.0 billion in the previous month. The South Korean (EWY) economy's high reliance on the external sector makes its economic growth vulnerable to trade dynamics.
China and the US are South Korea's (KORU) top two trading partners. Any change in demand from these economies could have a large impact on South Korea's economic activity. The recent political tensions between these two economies are likely to affect the exports of South Korea. Let's look at the trade balance of South Korea in the below chart.
Article continues below advertisement
Trade surplus of South Korea in May 2017
The trade surplus in May 2017 was the smallest in the last six months, as exports fell against the rise in imports. The exports dropped 12% in May 2017 to $45.0 billion as compared to the previous month when they stood at $39.1 billion. On a year-over-year basis, the exports again grew at a slower pace by 13.4% as compared to 18.2% in May 2017.
Imports and exports are projected to rise 7.2% and 2.9%, respectively, in 2017 as per government data. The consistent rise in imports as compared to exports, however, could affect the trade surpluses reported since February 2012. The top export destinations of South Korea include China (MCHI), the US (SPY), Vietnam (VNM), Hong Kong (EWH), and Japan (EWJ).
South Korea's ties with the US
Donald Trump has extended his anti-trade rhetoric to a number of nations including South Korea. Earlier this year, President Trump stated that the US would renegotiate or cancel its free trade deal with South Korea unless the trade issues are sorted out. The US's protectionist stance is likely to impact the economic activity of export-reliant South Korea.
Let's look at manufacturing activity in South Korea in our next article.