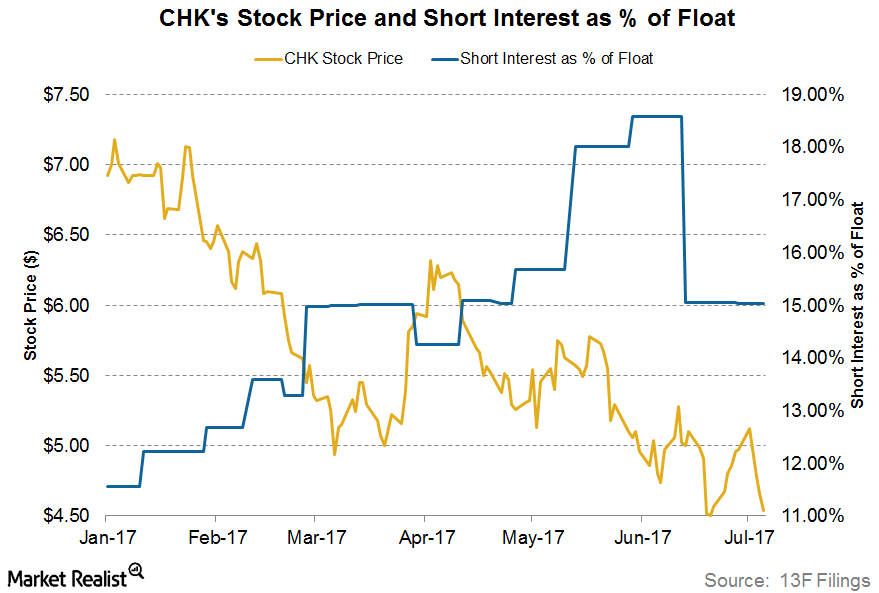 Analyzing Short Interest Trends in Chesapeake Energy Stock
Short interest in Chesapeake Energy stock
On July 7, 2017, the short interest ratio (or short interest as a percentage of float) in Chesapeake Energy (CHK) stock was ~15%. In January 2017, Chesapeake Energy's short interest ratio was ~11.6%.
As you can see in the above graph, the short interest in Chesapeake Energy stock has increased significantly since the beginning of the year. An increase in short interest usually indicates bearish sentiment for the stock. When we compare Chesapeake Energy's stock movement during the same period, its stock price on was $6.92 on January 3 and $4.54 on July 7.
Chesapeake Energy's peers EQT (EQT) and Rice Energy (RICE) have short interest ratios of ~6.3% and ~5%, respectively.
Read An In-Depth Analysis of Chesapeake Energy: What Will 2017 Bring? to learn more about Chesapeake Energy.
Article continues below advertisement