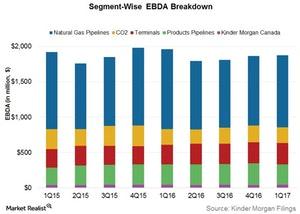 Which Segment Could Drive Kinder Morgan's 2Q17 Earnings?
Natural Gas Pipelines segment
Kinder Morgan (KMI) has five segments. The Natural Gas Pipelines segment is Kinder Morgan's largest segment. The segment accounted for 54% of the company's 1Q17 EBDA (earnings before depreciation and amortization).
In 1Q17, Kinder Morgan's Natural Gas Pipelines segment's EBDA fell 10% YoY (year-over-year). The fall was driven by the sale of 50% interest in Southern Natural Gas and reduced volumes on some of the company's gathering and processing systems.
The Southern Natural Gas sale was completed in September 2016. It will have an impact on the segment's YoY volumes in 2Q17. Lower Eagle Ford Shale volumes will likely have a negative impact on the segment's earnings in 2Q17.
Article continues below advertisement
CO2 segment
Kinder Morgan's CO2 segment reported a 1% YoY fall in EBDA in 1Q17. The segment's performance was impacted by slightly lower commodity prices.
Crude oil prices averaged $48.2 per barrel in 2Q17—lower compared to an average of $51.8 per barrel in 1Q17. However, the prices improved from an average of $45.4 per barrel in 2Q16.
Other segments
Kinder Morgan's Products Pipelines segment and Terminals segment's EBDA rose 1% and 9%, respectively, in 1Q17 over 1Q16. The EBDA growth in the Terminals segment was mainly driven by contributions from expansion projects. Expansion projects might drive growth in 2Q17 as well.
The company's Kinder Morgan Canada segment reported a 7% decline in its 1Q17 EBDA. With the IPO of Kinder Morgan Canada Limited (KML.TO), Kinder Morgan owns nearly 70% interest in the Canadian operations, which could impact the segment's contribution to Kinder Morgan's EBDA in 2Q17.
In the next part of the series, we'll look at Kinder Morgan's natural gas transport and gathering volumes over the last few quarters.