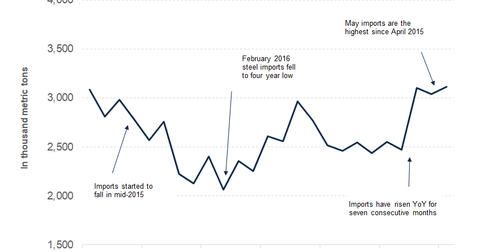 Why 'Section 232' Is the Buzzword in the US Steel Industry
By Mohit Oberoi, CFA

Updated
Section 232
In the previous parts, we saw how steel buyers and US trade relations with other countries could be impacted if duties are imposed after the Section 232 probe. Although steel buyers have reasons to be wary of the ongoing probe, US steel producers expect the probe to bring about a sustainable turnaround.
Article continues below advertisement
Sustainable turnaround
Notably, "sustainable" is the key word here. It isn't that trade remedies weren't available to US steelmakers. US steelmakers have made good use of existing trade remedies. They virtually turned into trade vigilantes over the last two years. US steelmakers had plenty of reasons to explore trade actions against steel imports. We saw a sharp deterioration in US steel prices in 4Q15. While the year was nothing short of a nightmare for metal producers, things were particularly bleak for steel.
While other metals like copper and aluminum managed to hold on to their 2009 lows despite the sell-off in the metals and mining space, steel had the infamous distinction of falling below 2009 lows in 2015. Not many US steelmakers could profitably produce steel with spot HRC (hot-rolled coil) prices falling below $400 per ton level. Forget about net profit, some companies like U.S. Steel Corporation (X) couldn't even break even at the EBITDA (earnings before interest, taxes, depreciation, and amortization) level.
Trade actions
Acting on the cases filed by US steelmakers, the US imposed punitive duties on imports of flat-rolled steel products in 1Q16. The duties helped steel companies like AK Steel (AKS). However, the jubilation was short-lived. We saw an increase in imports from countries that weren't named in the trade case.
The previous scenario is what US steelmakers like Nucor (NUE) would expect from the Section 232 probe—a sustainable decline in US steel imports. In the next part, we'll see how strict action against imports could boost US steelmakers (MT) (STLD).