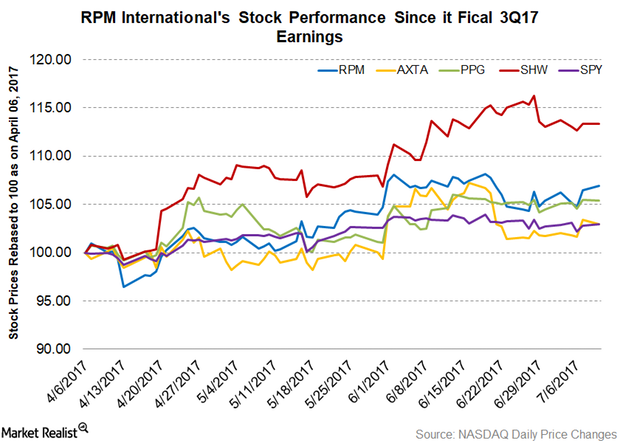 RPM International's Stock Performance since Fiscal 3Q17
RPM International to announce its fiscal 4Q17 earnings
In a press release on June 23, 2017, RPM International (RPM) said that it will announce its fiscal 4Q17 earnings on July 24, 2017, before the market opens. Management will hold a conference call to discuss the results at 10:00 AM EST. RPM International follows June 1–May 31 as its financial year. In this series, we'll provide an overview of RPM International's stock performance since its 3Q17 earnings, analysts' revenue estimate for 4Q17, EPS (earnings per share) estimates, analysts' recommendations, and RPM International's latest valuations compared to its peer.
Article continues below advertisement
RPM's stock performance since its 3Q17 earnings
RPM International declare its 3Q17 earnings on April 6, 2017. Since then, it has gained 6.9% and outperformed the broad-based SPDR S&P 500 ETF (SPY), which has returned 2.90% during the same period. RPM International's strong performance caused it to outperform some of its peers like Axalta (AXTA) and PPG Industries (PPG)—they returned 3.0% and 5.40%, respectively. However, Sherwin-Williams (SHW) outperformed RPM International with a return of 13.40%.
RPM International's strong performance came on the back of its strong fiscal 3Q17 earnings, which beat analysts' estimates. RPM International posted adjusted EPS of $0.14 in fiscal 3Q17—compared to analysts' expectation of $0.11 per share. The trend is expected to continue in fiscal 4Q17. Revenues from acquisitions will rise and contribute to RPM International's net income.
Moving average and RSI
The gains in RPM International stock helped it trade 2.90% above the 100-day moving average price of $53.77, which indicates the stock's upward trend. RPM International's 14-day RSI (relative strength index) of 56 indicates that the stock isn't overbought or oversold. An RSI of 70 and above indicates that the stock is overbought, while an RSI of 30 and below indicates that the stock is oversold.