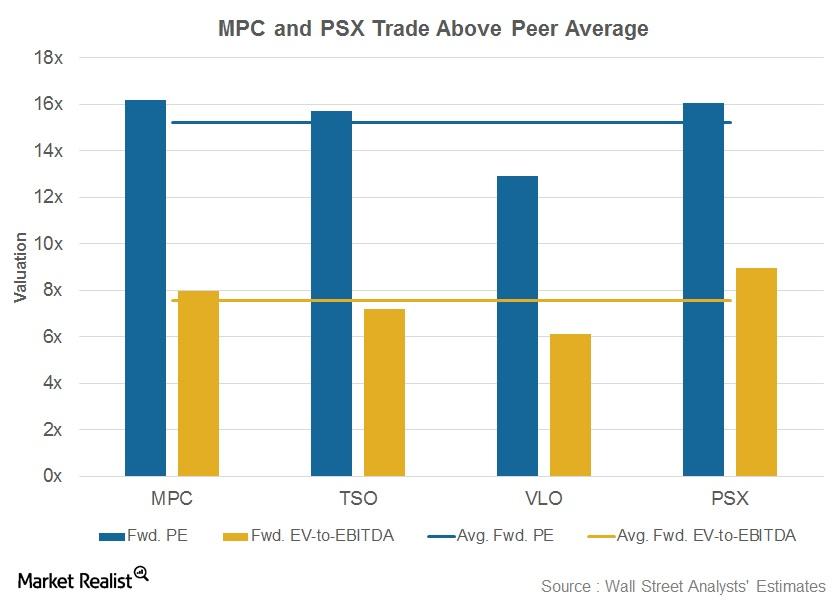 Refiners' Valuations: MPC, TSO, VLO, and PSX
By Maitali Ramkumar

Aug. 18 2020, Updated 6:25 a.m. ET
Refiners' valuations
Earlier in this series, we discussed the PEG valuation comparison for refining stocks. Now, we'll look at the forward valuations of the refiners Marathon Petroleum (MPC), Tesoro (TSO), Valero Energy (VLO), and Phillips 66 (PSX). 
The average forward EV-to-EBITDA[1. enterprise value to earnings before interest, tax, depreciation, and amortization] and average forward price-to-earnings (or PE) of these refiners stand at 7.6x and 15.2x, respectively.
Article continues below advertisement
MPC and PSX trade at a premium
PSX trades at a 9.0x forward EV-to-EBITDA multiple and a 16.1x forward price-to-earnings multiple, standing above the peer averages. Similarly, Marathon Petroleum has a forward EV-to-EBITDA multiple of 8.0x and a forward price-to-earnings multiple of 16.2x, and it trades above the peer averages. Why do PSX and MPC trade at a premium over the peer average?
Phillips 66 (PSX) has a diversified earnings model aimed at shielding itself from the refining environment's volatility. The company's focus includes increasing its steady Midstream and Marketing segment's earnings. For Phillips 66's growth plan, please read How Phillips 66's Capex Is Shaping Up Future Growth Trajectory.
Marathon Petroleum's (MPC) strategic plan includes dropping down midstream assets to its MLP. MPC has already started executing the plan, which is expected to be completed in 1Q18, with the exception of the Speedway separation. For more on this topic, you can read How Marathon Petroleum Is Holding Out while Restructuring.
PSX's diversified earnings model and MPC's strategic initiatives are the primary reasons for these stocks' premium valuations.
Article continues below advertisement
Rise in TSO's valuations
Tesoro recently traded at a discount to both peers' averages, which could have resulted from the rise in its debt level to fund its recent acquisitions in midstream and refining. Tesoro's higher leverage was weighing on its valuation, pushing it below the peers' averages.
However, with the completion of the Western Refining acquisition, market participants expect the acquisition benefits to commence. TSO now stands at a 15.7x forward PE multiple and a 7.2x forward EV-to-EBITDA multiple.
Tesoro expects annual synergies of ~$350 million–$425 million from the integration of WNR, operational improvements of $475 million–$575 million in 2017, and sharp growth in its logistics portfolio. Tesoro's organic and inorganic growth activities are likely to boost its future earnings. Presumably, this is the reason for the rise in Tesoro's stock price and valuations.
VLO's discounted valuations
Valero Energy (VLO) trades lower than its peers' averages on both valuation ratios. VLO's forward PE is 12.9x, and its forward EV-to-EBITDA is 6.1x.
Valero (VLO) has a comfortable leverage and cash flow position but is suffering due to high compliance costs in the form of RINs (renewable identification numbers). The purchase of RINs quarter-over-quarter is denting the company's refining earnings. In 1Q17, VLO spent $146 million on the purchase of RINs. The same cost stood at $749 million in 2016, representing 21% of its operating margin. 
This expense is expected to stay at a similar level in 2017. As a result, the RINs purchase burden, and volatile RINs prices are the likely reasons for VLO to trade below the peer averages.