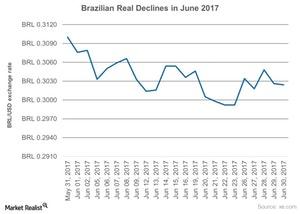 Political Instability and Commodity Prices Weigh on Brazilian Real in 2017
By Mary Sadler

Updated
The Brazilian real's performance
Brazil's (EWZ) economy has found itself immersed in political scandals and corruption that have been affecting growth for the past few years. Specifically, the Brazilian real (BZF) has been in a downtrend since President Michel Temer was accused of corruption charges that began in March 2017.
However, President Temer had some relief recently, after a congressional committee in Brazil provided some support and voted against recommending him to be tried in the Supreme Court on corruption charges. Such an act would need full parliamentary approval and will be decided by August 2, 2017.
Article continues below advertisement
The real in May
The Brazilian real has been on a downtrend after the allegations of corruption against President Temer strengthened in March 2017. The Brazilian real has dropped by about 2% in June 2017 amid the ongoing political instability.
Political stability is important for a conducive investment climate in any country. The political uncertainty in Brazil has caused investors to exit Brazilian markets, impacting asset performances. Net foreign direct investments inflows stood at $2.9 billion in April 2017—a 48% fall from the previous month.
Declines in commodities and oil prices
The decline in oil (USO) and commodity prices (DBC) are also affecting the real, pushing the currency down against the US dollar (UUP) in June 2017.
The prices of commodities and the currency of commodity-export economies are highly interconnected, and so the prices of commodities tend to influence the domestic currency. The Colombian peso (ICOL) and Mexico peso (EWW) are among other Latin American currencies that have been impacted by declining commodity prices in 2017.