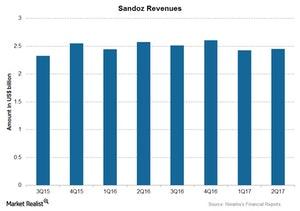 Novartis in 2Q17: Performance of Sandoz
By Mike Benson

Jul. 25 2017, Updated 6:39 a.m. ET
Sandoz, the generics business
Sandoz, the generics arm of Novartis (NVS), is a leader in differentiated generics, which include products difficult to develop and manufacture. Sandoz contributed ~20.0% of total revenues at $2.45 billion in 2Q17, a 5.0% fall compared to $2.58 billion in 2Q16.
The segment reported an operational fall of 4.0% in revenues during 2Q17, including a 4.0% volume growth, which was more than offset by an 8.0% fall in revenues due to price erosion.
Article continues below advertisement
Performances of Sandoz products
Sandoz's revenues are driven by biopharmaceuticals, including biosimilars and Zarxio, partially offset by lower sales of Glatopa and Omnitrope.
For the US markets, reported revenues fell 15.0% operationally to $820.0 million in 2Q17. That was mainly driven by pricing pressures in the retail generics franchise, partially offset by a 2.0% operational rise in biopharmaceutical sales.
For European markets, revenues rose 4.0% operationally to $1.1 billion in 2Q17. That was driven by strong performances in the majority markets, including Italy, France, Russia, and Switzerland.
The markets in Asia, Africa, and Australasia reported an operational fall of 3.0% in revenues to $340.0 million in 2Q17, mainly driven by the slowdown in China and partly offset by increased sales in Japan and Australia.
Biopharmaceuticals
The biopharmaceuticals portfolio reported a 6.0% operational growth in global sales to $260.0 million in 2Q17, driven by a strong performance in the European markets and partly offset by lower contract manufacturing revenues and sales in the US markets. Two new biosimilars—Rixathon (rituximab) and Erelzi (etanercept)—were approved in June 2017 by the European Commission. Revenues for biopharmaceuticals include revenues from biosimilars, biopharmaceutical contract manufacturing, and Glatopa.
Article continues below advertisement
Retail generics
Retail generic sales fell 5.0% operationally to $2.1 billion in 2Q17, driven by a 17.0% fall in US revenues and partially offset by a 3.0% rise in international sales.
Anti-infective franchise
The anti-infective franchise reported flat revenues at $319.0 million in 2Q17. Novartis discontinued some low-margin products in the last few quarters, leading to an overall fall in revenues for the franchise.
To divest the risk, you can consider the PowerShares International Dividend Achievers ETF (PID), which holds ~1.5% of its total assets in Novartis. PID also holds 1.9% in Sanofi (SNY), 1.9% in Novo Nordisk (NVO), and 1.5% in Teva Pharmaceutical Industries (TEVA).