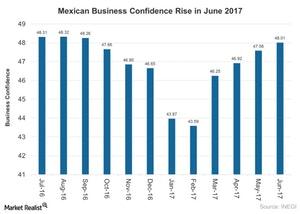 Mexican Business Confidence and Improved Trade in June 2017
By Mary Sadler

Updated
Mexican economy
Economic activity in Mexico (EWW) is expected to pick up in the rest of 2017, mainly due to improved exports after an eased stance by the United States (SPY) on its trade sentiment. Manufacturing confidence in Mexico increased to 48.0 in June 2017 compared to 47.6 in May.
Business confidence is also rising after a sharp decline in the first two months of 2017. The sentiment is expected to rise with the support of increased investments in Mexico (UMX) in 2017.
In the graph below, you can see the business confidence in Mexico over the last year.
Article continues below advertisement
Mexican business confidence in June 2017
The business confidence in Mexico in June 2017 was the highest since September 2017. The improvement was seen across the following sentiments:
The current opinion about Mexico's general economic situation improved to 44.4 from 43.5.
Expectations about the country's situation improved from 52.6 to 52.8.
Expectations about investments also improved to 58.1 from 57.8.
Expectations regarding Mexico's economic situation improved to 50.4 from 49.5.
The latest on NAFTA
The United States (QQQ) and Mexico (HEWW) recently reached an agreement to limit Mexican sugar imports into the United States. The sugar deal is considered a positive step toward the renegotiation of NAFTA (North American Free Trade Agreement) in August 2017. However, the Mexican administration is also putting conscious effort into looking beyond the United States, which is improving the country's business sentiment.
Investments
Mexican equities are rising in 2017 as trade-related uncertainty is slowly fading. Mexican President Enrique Nieto has implemented several political and economic reforms to boost foreign and domestic investments in Mexico (UMX). The iShares MSCI Mexico Capped (EWW), which tracks Mexican equities, rose about 6.0% in June 2017. So far in 2017, EWW has risen about 29.0% as of July 12, 2017.
Next, let's take a look at what's going on in Peru.