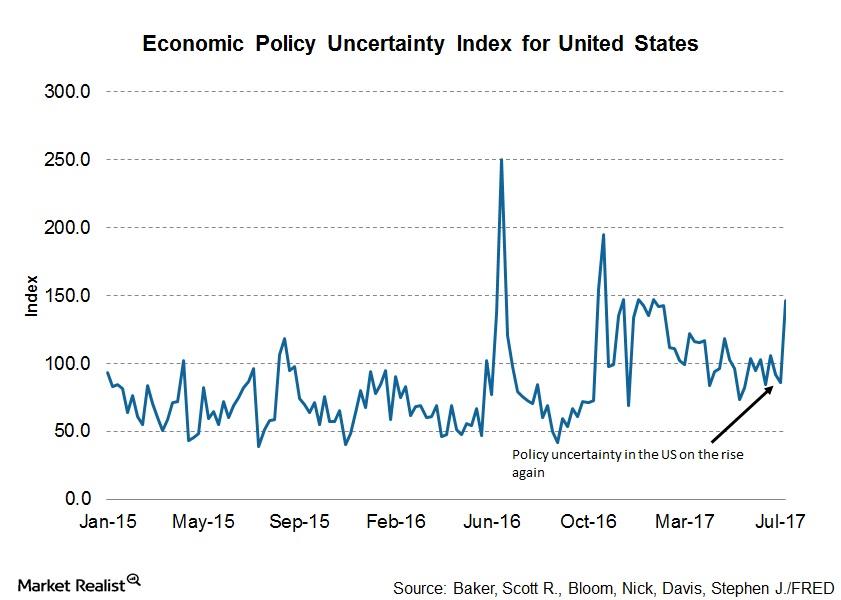 Medium Term Risks Seen by the International Monetary Fund
By Ricky Cove

Jul. 31 2017, Updated 10:42 a.m. ET
Risks seen by the International Monetary Fund
In its WEO (World Economic Outlook) update, the International Monetary Fund (or IMF) listed risks to its forecasts. This report, released on July 23, contains updates to the IMF's projections for many global economies. In a summary of all the risks faced by the global economy, the IMF included fiscal uncertainty in the United States (SPY), policy uncertainty and overvaluation of equity in Europe (VGK), lagging inflation (TIP) growth because of lower global commodity prices (USO), and financial tensions in China.
Article continues below advertisement
Key risks to US and European economic projections
In its update, the IMF said that it is difficult to predict changes in US fiscal and regulatory policy. The statement said that trisks to US forecasts are equally balanced. Fiscal stimulus in the form of tax cuts could drive demand higher and lead to overshooting economic growth, while the implementation of fiscal consolidation, as proposed in the recent budget, could have an opposite effect.
The IMF sees similar challenges in Europe. The recent pickup in economic activity in the Euro area, helped by positive consumer sentiment and reduced political uncertainty, could overshoot the IMF's growth projections. The IMF said rich valuation in equity markets (ITOT) could easily be disturbed by policy uncertainty or shocks, which could come from ongoing Brexit negotiations or geopolitical tensions.
Other downside risks included in the statement
Other risks included in the WEO update were excessive credit growth in China and faster-than-expected monetary tightening from the Fed, which could impact global financial markets (BND), especially in emerging markets. The IMF also highlighted the risks of an inward looking policy, which could hinder global growth and lower global productivity. Overall, while the IMF expects growth to remain stable in the near term, we have to be cognizant of the risks that the report has highlighted, as they could derail any growth momentum.